With Bookselling in Deep Turmoil, Book Sales Are on the Rise
Bookstores are in crisis. Books aren't.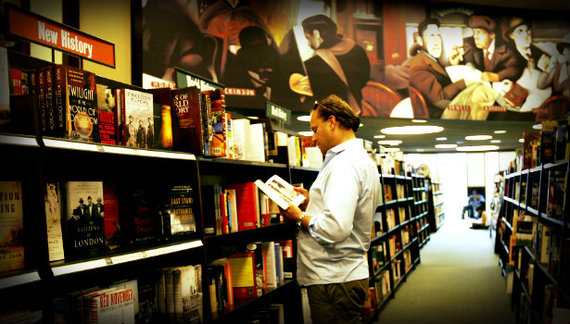 Reuters
With all the upheaval in bookselling over the past decade -- the surge in online ordering, the multiple challenges faced by brick and mortar booksellers, and the squabbles over e-book pricing -- you would think the book industry was in crisis. But sales figures suggest otherwise. Increasingly, this churning appears to be an integral feature of a steady process of transformation in the digital age.
The Association of American Publishers released 2012 sales figures, showing a substantial increase in overall totals. Sorting out the numbers (there is additional data on the AAP website), the net gain was 7.4 percent over the previous year, which amounts to an additional $451 million in revenue, reaching $6.533 billion. The extraordinary popularity of the Fifty Shades of Gray trilogy, published by Random House's Vintage division, and the Hunger Games series from Scholastic were major contributors to the boost. While there is a popular notion that book sales are being fundamentally undermined by competition from other forms of information and entertainment pouring forth from digital devices, these figures show this is simply not the case.
The percentage of e-book sales as a factor in the totals was up by a considerable 42 percent from 2011, amounting to $1.251 billion. But that rate of increase has slowed in recent months, and the prevailing view in the industry is that the digital reading pattern will settle, at least for the time being, somewhere around 20-25 percent of overall volume. Nonetheless, the impact of devices--e-readers, tablets and smartphones from Apple, Amazon, Samsung, Kobo, Nook, Microsoft, and others--is unquestionably transforming how publishers view their lists. The process of acquisitions now assumes that e-books--with generally lower prices than print books, but without the rate of returns of unsold inventory that have been such a burden on revenues in the past--are an essential part of budgeting.
Publishers Lunch, a particularly savvy analyst and monitor of industry output, reported that book returns were down by $318 million last year: "That's the greater efficiency of digital and online sales at work, seen in the positive earnings report at many publishers."
Another aspect of encouraging activity in recent weeks has been spirited bidding for nonfiction books (I can't claim to follow the fiction market), with auctions involving as many as ten publishers and results well up into the six-figure range. There is always a competitive edge for leading titles, but this spring reflects particular determination to bring in stories with upfront financial guarantees that anticipate the books will be bestsellers. Here are three recent books on offer with strong narratives but without celebrity authors of the sort that would ordinarily drive multiple offers of considerable size:
Stephen Richard Witt's proposal called "How Music Got Free: The End of An Industry, The Turn of the Century and the Patient Zero of Piracy," is the story of how the MP3 upended the music industry. Witt, who has a degree from the Columbia Graduate School of Journalism and has free-lanced for Al Jazeera, turned in a proposal of about 40,000 words to his agent Chris Parris-Lamb. The agent's pitch acknowledged that Witt had "no credentials to his name . . . quit his job at a hedge fund to go to journalism school for the sole purpose of reporting out this story as far as he could take it . . . let's call him an historian of the Internet." A key element of the tale, as quoted in a Publishers Lunch summary, tells "of a single employee at a CD pressing plant, who by smuggling out discs in advance of their release date and leaking them to his confederates online became for a time, the most powerful person in the music world."
 

Dan Ephron, a correspondent for Newsweek and The Daily Beast in Israel, is writing "Killing a King: How a Jewish Zealot Assassinated Yitzhak Rabin and Remade Israel." As Israel's formidable prime minister, Rabin was leading the way towards an agreement with Palestinian leaders for a two-state solution which seemed, in the aftermath of the 1993 Oslo Accords a distinct possibility. But at a Jerusalem rally on November 4, 1995, Rabin was shot by Yigal Amir, an Israeli right-wing radical. Rabin's death effectively ended the peace process. The book brings this tragic intersection of two men into graphic focus and the consequences since of repeated setbacks in the effort to find a solution to Israel-Palestinian enmity.
 

Bill Browder's "Red Notice" is the saga of an American investor active in Russia in the immediate post-Soviet period (and ironically the grandson of Earl Browder, a one-time head of the American Communist Party). After making a fortune, Browder fell out with Russians, moved to London and left behind his lawyer Sergei Magnitsky who was beaten to death in a Moscow prison. Browder's commitment on behalf of his dead colleague succeeded in having Congress pass the Magnitsky bill which placed restrictions on Russians with dubious human rights records. Valdimir Putin immediately retaliated against Americans, beginning with restrictions on adoptions. Browder's fascinating background, his exploits in Russia and the Magnitsky story comprise a compelling tale of many facets.
Among the other major developments of the past few weeks is Simon & Schuster's agreement with New York City's public libraries for a one-year trial at making e-books available to borrowers. With that pact, all six of the country's largest publishers have now launched at least short-term programs to provide e-books through New York's library system. For a good summary of the library agreements, read Laura Hazard Owen's blog at paidcontent.org.
For now, books in a variety of formats sold through a range of venues appear to be holding their own. There is never a good time for complacency--and this is certainly not the season for self-satisfaction. But the range of activity in the book industry is nonetheless, by many standards, robust and dynamic.