Why Apple Wants (and Needs) a Music Streaming Service
Since 2010, streaming services have doubled their share of music revenue. Apple needs to get in on this game.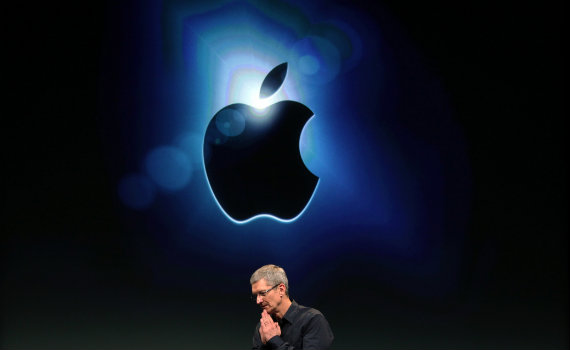 (Reuters)
The Verge reports that Apple is closing in on its first deals with the major record labels to begin offering their tunes on a new streaming service. The unnamed project, which the press has naturally dubbed iRadio, is meant to compete with Pandora.
Apple apparently hopes its web radio foray will help iTunes users discover new tracks that they'll eventually download, while also generating some ad revenue on the side. But there's a simpler way to look at this. While iTunes may rule in downloads, streaming is the fastest-growing piece of the music business, and the company would be foolish not to jump on it.
According to the RIAA, services like Pandora and Spotify, where users sign up and sometimes pay for access to a whole digital library, along with Youtube, Vevo and other streaming players, saw their revenue grow about 58 percent in 2012 to more than $1 billion. Digital downloads, which are still a bigger market, grew only 8.6 percent to $2.9 bllion.
These streaming services, which the RIAA now refers to as "access model," now make up 15 percent of the music market.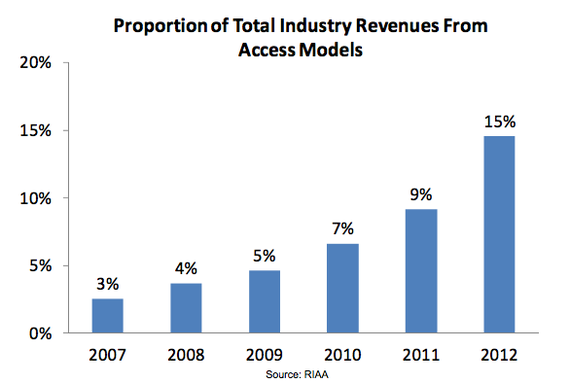 And it's not hard to imagine them one day making up much, much more. As IFPI noted in its 2013 Digital Music Report, American Internet users are still more likely to download music than use a subscription service. But that's not the case in countries like Sweden, South Korea, or France. And if their listening habits are a preview of our own future, Apple needs to establish itself in this space. And as if they needed any extra motivation, its arch-rival Google is already planning its own YouTube-based subscription streaming service as well.