Who Is Defending Austerity Now?
The Excel error heard 'round the world has deficit-cutters backpedaling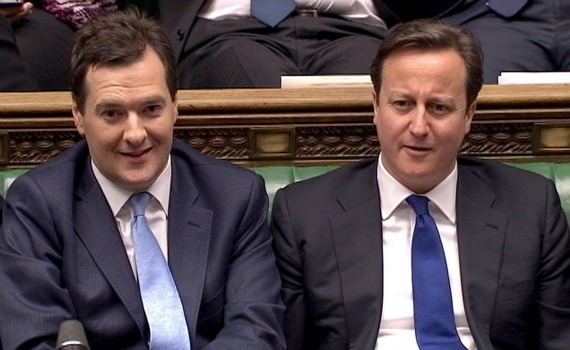 (Reuters)
Austerians have had their worst week since the last time GDP numbers came out for a country that's tried austerity.
But this time is, well, different. It's not "just" that southern Europe is stuck in a depression and Britain is stuck in a no-growth trap. It's that the very intellectual foundations of austerity are unraveling. In other words, economists are finding out that austerity doesn't work in practice or in theory.
What a difference an Excel coding error makes.
Austerity has been a policy in search of a justification ever since it began in 2010. Back then, policymakers decided it was time for policy to go back to "normal" even though the economy hadn't, because deficits just
felt
too big. The only thing they needed was a theory telling them why what they were doing made sense. Of course, this wasn't easy when unemployment was still high, and interest rates couldn't go any lower. 
Alberto Alesina and Silvia Ardagna
took the first stab at it, arguing that reducing deficits would increase confidence and growth in the short-run. But this had the defect of being demonstrably untrue (in addition to being based off a
naïve reading of the data
). Countries that tried to aggressively cut their deficits amidst their slumps didn't recover; they fell into even deeper slumps.
Enter
Carmen Reinhart and Ken Rogoff
. They gave austerity a new raison d'être by shifting the debate from the short-to-the-long-run. Reinhart and Rogoff acknowledged austerity would hurt today, but said it would help tomorrow -- if it keeps governments from racking up debt of 90 percent of GDP, at which point growth supposedly slows dramatically. Now, this result was never more than just a correlation -- slow growth more likely causes high debt than the reverse -- but that didn't stop policymakers from imputing totemic significance to it. That is, it became a "fact" that everybody who mattered knew was true.
Except it wasn't. Reinhart and Rogoff goofed. They accidentally excluded some data in one case, and used some wrong data in another; the former because of an Excel snafu. If you correct for these very basic errors, their correlation gets even weaker, and the growth tipping point at 90 percent of GDP disappears. In other words, there's no there there anymore.
Austerity is back to being a policy without a justification. Not only that, but, as
Paul Krugman
points out, Reinhart and Rogoff's spreadsheet misadventure has been a kind of the-austerians-have-no-clothes moment. It's been enough that even some rather unusual suspects have turned against cutting deficits now. For one, Stanford professor 
John Taylor
 claims
L'affaire Excel
 is why the G20, the
birthplace of the global austerity movement
 in 2010, was more muted on fiscal targets recently.
The discovery of errors in the Reinhart-Rogoff paper on the growth-debt nexus is already impacting policy. A participant in last Friday's G20 meetings told me that the error was a factor in the decision to omit specific deficit or debt-to-GDP targets in the G20 communique.
The UK and almost all of Europe have

erred in terms of believing that austerity, fiscal austerity in the short term, is the way to produce real growth. It is not. You've got to spend money. Bond investors want growth much like equity investors

, and to the extent that too much austerity leads to recession or stagnation then credit spreads widen out -- even if a country can print its own currency and write its own checks. 

In the long term it is important to be fiscal and austere. It is important to have a relatively average or low rate of debt to GDP. The question in terms of the long term and the short term is how quickly to do it.
Growth vigilantes are the new bond vigilantes. Gross thinks the boom, not the slump, is the time for austerity -- which sounds an awful lot like 
you-know-who
.
The austerity fever has even broken in Europe. At least a bit. Now, eurocrats can't
say
that austerity has been anything other than the best of all economic policies, but they
can
loosen the fiscal noose. And that's what they might be doing, by giving countries more time and latitude to hit their deficit targets. Here's how European Commission president
José Manuel Barroso
framed the issue on Monday:
While [austerity] is fundamentally right, I think it has reached its limits in many aspects. A policy to be successful not only has to be properly designed. It has to have the minimum of political and social support.
That's not much, but it's still much better than the
growth-through-austerity plan
Eurogroup president Jeroen Dijsselbloem was peddling on ... Saturday.
Now, Reinhart and Rogoff's Excel imbroglio hasn't exactly set off a new Keynesian moment. Governments aren't going to suddenly take advantage of zero interest rates to start spending more to put people back to work. Stimulus is still a four-letter word. Indeed, the euro zone, Britain, and, to a lesser extent, the United States, are still focussed on reducing deficits above all else. But there's a greater recognition that trying to cut deficits isn't enough to cut debt burdens. You need growth too. In other words, people are remembering that there's a denominator in the debt-to-GDP ratio.
But austerity doesn't just have a math problem. It has an image problem too. Just a week ago, Reinhart and Rogoff's work was the one commandment of austerity: Thou shall not run up debt in excess of 90 percent of GDP. Wisdom didn't get more conventional. What did this matter? Well, as
Keynes famously observed
, it's better for reputation to fail conventionally than to succeed unconventionally. In other words, elites were happy to pursue obviously failed policies as long as they were the
right failed policies
.
But now austerity doesn't look so conventional. It looks like the punchline of a bad joke about Excel destroying the global economy. Maybe, just maybe, that will be enough to free us from some defunct economics.