The Rise of Gay Marriage and the Decline of Straight Marriage: Where's the Link?
The story behind the rise of gay tolerance, unwed mothers, and delayed marriage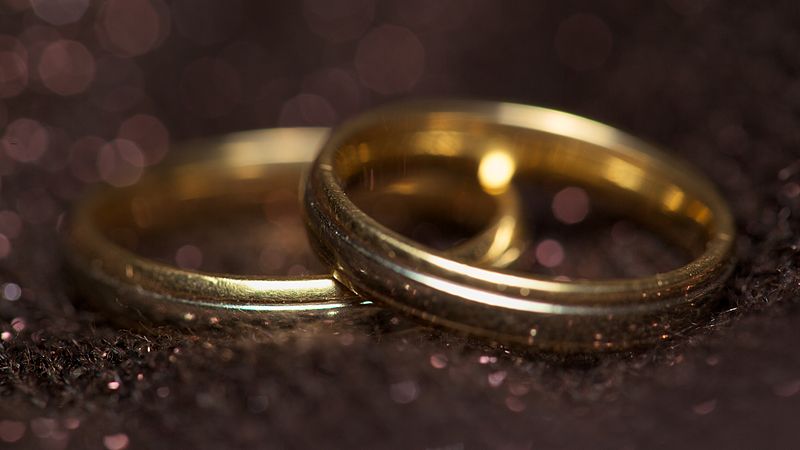 Let's talk about marriage. Today, young people get married later. There are more unwed mothers. And gay marriage is winning broad support.
These are three true things about marriage. But three true things about marriage don't necessarily have anything to do with one another.
The connection between the rise of gay marriage and the fall of straight marriage has been made, most notably, by Times columnist Ross Douthat, who has asked liberals to acknowledge that the mainstreaming of gay marriage just might have led the an increase in unwed moms and the decline of the institution, in general. This is dubious, for two big reasons. First, support for gay marriage is highest among higher-educated, and higher-earning people, who are less likely to have children out of wedlock. Second, if gay marriage were *behind* the rise of unwed mothers and delayed marriage, it would theoretically have to come first. But it didn't. As we'll see, out-of-wedlock births and delayed marriage were already underway before the 1990s, when gay acceptance suddenly exploded.
So let's ask three natural follow-up questions: When did support for gay marriage increase? Why are Millennials getting married later? And what's behind the rise of unwed mothers?

Where did gay tolerance come from?
(Starts with: Late Gen-Xers and Millennials growing up in an era of increasingly gay-friendly media)
As defenders of all strains of equality like to say, the arc of history is long, and it bends toward justice. But for gay marriage, it bent particularly quickly and shortly.

We're going to tell this story in charts. First, between the 1970s and early 1990s, there was practically no change in public attitudes towards gays. In the 20 years after 1990, the gap closed by an astounding 60 points.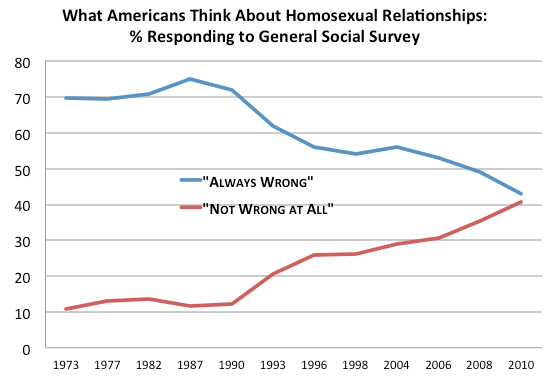 Practically NOBODY strongly supported gay marriage in the late 1980s. It was unheard of. Today, it's mainstream, and about half the gap closed before 2004. Remember: It wasn't until 2003 that the Supreme Court ruled that gay people shouldn't be thrown into prison for consensual sex -- in the same year, the British government officially allowed the teaching of "the acceptability of homosexuality." This was an incredibly rapid change.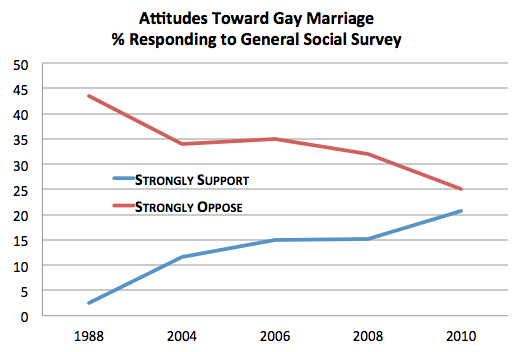 The public today is roughly evenly split over gay marriage, but when you break this down by age, you see the vast majority of resistance comes from older Americans, and support comes from the youngest.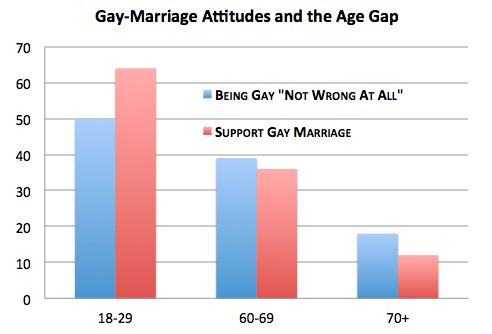 Big picture: Gay acceptance, which took off in the 1990s, led to gay marriage acceptance, which advanced in the last 20 years. By the time that late Gen-Xers and Gen-Yers reached young adulthood, the vast majority of them simply didn't care about homosexuality. It just wasn't a thing.

Mark McCormack, the author of The Declining Significance of Homophobia, attributed it to two factors that are essentially one factor, which is media exposure: (1) The rise in openly gay performers and characters normalized homosexuality for young kids listening to music and watching TV and movies; and (2) the Internet revealed to young people outside of liberal urban bastions that being gay simply wasn't that weird.
Why are people getting married later?
(Starts with: More educated women and the Great Recession.)
Well, this is complicated. I mean, every question in this article is complicated, but this question is complicated. For a longer explanation, I'll direct you here.

For our purposes, let's boil it down to the short-term explanation and the long-term explanation. The short-term explanation is very clear. It's the recession, which has delayed every hallmark of young adulthood -- getting a job, moving out, getting married, having kids, and so on.
But this delay is part of a longer delay of marriage that stretches back about half a century. As more women attended college and worked through their 20s, they built enough financial independence to wait for marriage. Meanwhile, the cost of being single fell dramatically, as birth control technology extended courtships, home tech (e.g. washing/drying machines, video games) made it easier to live alone, happily and cleanly. As you can see in this study by Betsey Stevenson and Justin Wolfers, marriages per capita have been declining since the 1940 (except for a little boomer-fueled uptick in the late-1960s):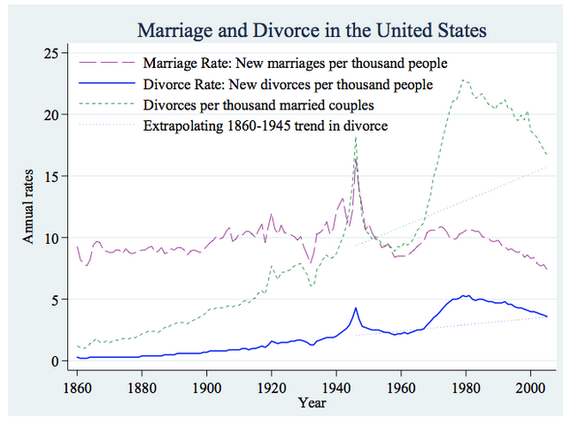 Out-of-wedlock births and delayed marriage were already underway before the 1990s, when gay acceptance took off. This suggests that gay marriage isn't leading to the decline of marriage. Rather, the "decline" of marriage happened to pique media interest at the same time that homophobia got smoked -- in entertainment, in federal law, and in wedding chapels.
The old conservative argument against gay marriage was that it would ruin the institution for straights. But Douthat's argument -- that gay marriage reinforces the idea that marriage and childbirth don't have to be connected -- acknowledges the exact opposite. It accepts that straight marriage "ruined" itself in a way that gay marriage won't fix. That's not a reason to oppose gay marriage. It's just an acknowledgement that gay marriage won't change anything for straight couples.
And wasn't that the point, all along?