The New Orleans Restaurant That Offers a Life-Changing Experience
Café Reconcile brings at-risk teens into the workforce — and serves the best red jambalaya in town.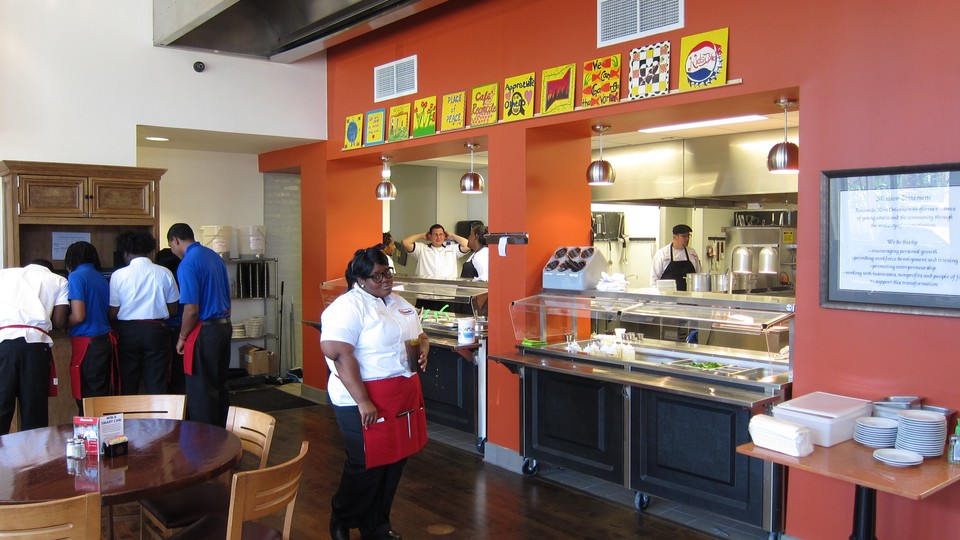 This article is part of a weeklong America 360 series on New Orleans.
NEW ORLEANS — Creole tradition in this city always demanded ham for dinner on Sunday, the Lord's Day. Then on Monday, wash day, Creole matrons dropped the leftover hambones into a pot with beans, onion, pepper, celery, and spices to let it simmer all day while they did the laundry. The dish eventually became a staple of the cuisine in New Orleans, where restaurants still serve it on Mondays. It's also an accepted local metaphor for the notion that much can be done with little. Red beans and rice means poverty.
Which makes it an appropriate choice for my lunch on a recent Monday at Café Reconcile downtown, not far from Lee Circle. This casual diner is the public face of a nonprofit where, according to the menu, "we equip disconnected youth (ages 16-22) with the life skills, job training, and work experience necessary to enact positive changes in their lives." The group finds at-risk young people — some are homeless, many have criminal records — and teaches them how to be restaurant workers. Suddenly, a kid whose future looked immutably like his past has become a member of the hospitality industry, the largest sector in town. Opportunity has opened up.
Reconcile pays students $800 to undertake a rigorous program. It begins with three weeks of training in life skills: being on time, code-switching, trusting authority. A staff social worker spends time with the students least prepared for service work. Then comes five weeks of working in the café itself; students rotate between the floor and the kitchen. They graduate after four final weeks working an externship, generally with one of the nonprofit's partners — say, a hotel kitchen downtown, a catering company, or a hospital café.
Hopefully, that turns into a full-time position. "We have some students who are living out of a car, living on the street, bathing at Walmart with a child," says CEO Glen Armantrout, who spent most of his career as an executive at Acme Oyster House, a century-old French Quarter restaurant chain, and took over at Reconcile in June. "Then they get a job, they get an apartment, they start paying rent — that's how we help them."
I watched Terrica Elvis, a 19-year-old Ninth Ward native, work her first day in the café. She had all the confidence of a longtime server, smiling often and generously at both the diners and her coworkers. She's not the hardest-luck case, but it still hasn't been easy for her family. They've been unable to repair Katrina's damage to their home, so she, her parents, her two older sisters (each have two jobs), and her niece share a small house in New Orleans East. "Some of my brothers turned in the wrong direction," Elvis says, speaking about drugs and crime. "That was all I knew. It's a big change for me to be given the opportunity to be somebody."
Reconcile, which opened its doors in 2000, says it has placed 90 percent of its graduates. In the past two years, the average starting salary was $9.25 an hour. The organization did not have an especially rigorous data-tracking system, and Hurricane Katrina wiped out whatever bookkeeping existed. Then the group began to reimagine its curriculum and scale up. In 2008, it had 58 students; this year, the number will be 160. In 2011, the most recent year with good data (Reconcile closed for six months of renovations last year), 62 percent graduated, and, of those, 82 percent still had jobs a year later. "They do great work," says Cmdr. Robert Bardy of the 6th Police Precinct, in which Reconcile is based, who was eating there when I visited. "And they have the best red jambalaya in the city."
Coaching doesn't end when students leave the program. Reconcile recently hired a job-retention specialist to track graduates for a year after placement in the workforce, studying their wage increases and promotions. "Our goal is not simply to help our youth find a job, but to help them build a career that will result in a legitimate pathway out of poverty for themselves and their families," says Dave Emond, the development director. To that end, Reconcile is adding postgraduate courses on financial literacy. It trains managers across town on how to employ its graduates — that is, how to handle them with care and help integrate them slowly into the workforce. It partners with a local dermatologist to offer a 90 percent discount on tattoo removal.
The program even works with legal service providers to expunge the records of felony convicts if those are proving to be insurmountable hurdles to employment. "Ultimately, we have found that these types of barriers, rather than any skill or attitude deficit, are the primary deterrents both to successful completion of our program and to long-term workplace immersion," Emond says. Cmdr. Bardy, too, helps by making sure Reconcile students going to work overnight aren't held for violating the city's under-18 curfew.
Reconcile is an unusual poverty-fighting nonprofit. It makes 50 percent of its revenue from the restaurant — hopefully more in the coming years, Armantrout says — and the rest from grants and donations. (The end of earmarks in Congress meant the demise of a $300,000 annual grant that Sen. Mary Landrieu had helped to secure.) Celebrity chef Emeril Lagasse, for instance, kicked in $600,000 for the just-unveiled nearly $6 million expansion and renovation. "But it's expensive to cover uniforms, transportation, educational supplies, and two meals per day — about $5,000 per student."
Still, says Armantrout, the rewards are easy to see. At the beginning of the program, "we ask what [the young people] want to do with their lives, and get a blank stare," he says. "But after 12 weeks, it's, "˜I want to own my own restaurant,' "˜I want to own my own beauty shop,' "˜I wanna own my own home, my own car, I wanna have a family one day.' Now they have goals and aspirations."