The Hollywood Jobs Program
Tax credits, cheap skilled labor, and a lower cost of living make filming in New Orleans very attractive for movie studios. But is it a good deal for the state?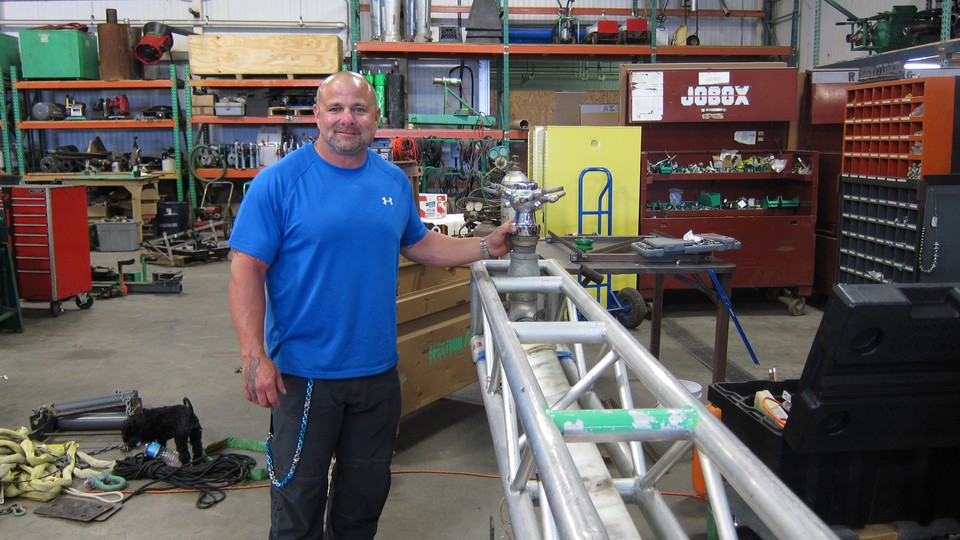 This article is part of a weeklong America 360 series on New Orleans.
NEW ORLEANS — A thrum of activity — sparkly soldering irons, lumbering forklifts — vibrates the Spectrum FX warehouse when I show up to chat with its owner, Matt Kutcher, who moved the special effects shop here in 2011 after 15 years in Hollywood. The floor is strewn with snowmakers, wind machines, car-roll cages, and other baffling equipment. In the center, Kutcher and a half dozen men are threading a fire hose through a rain bar, a latticed boom about 50 feet long that will be used to conjure inclement weather. When it's finished, they'll truck the rain bar to the New Orleans East set of Dawn of the Planet of the Apes and hang it perpendicularly from the top of a crane. Water rises through the hose and sprays a thunderstorm across a four-block radius.
It's an appropriate metaphor for what happened to this state's film industry after lawmakers in Baton Rouge passed a 30 percent film tax credit in 2002: They opened the spigot. Thanks to the provision, studios can redeem nearly a third of what they spend in the state on projects larger than $300,000. They get another 5 percent discount for hiring locals like Kutcher and his crew. The result is that Louisiana is now the third most productive state in the film industry, after California and New York. New Orleans alone, where studios spent $661 million last year, now has about 1,000 full-time movie workers. "At this point, it has created roughly the same number of jobs as the state seafood industry," says Will French, who runs a tax credit brokerage here.
Kutcher, 45, started his Los Angeles company in 1996. Over the years, he occasionally won studio contracts to work a New Orleans film (Interview with a Vampire was his first). But because there weren't many experienced local workers, Kutcher had to bring in California welders or carpenters familiar with showbiz tricks--at great cost. After 2002, Kutcher began to notice more and more local crew with sophisticated knowledge. The number of New Orleanians working as full-time film crew rose 400 percent between 2006 and 2011. Finally, Abraham Lincoln: Vampire Hunter did the trick. Kutcher constructed all the effects he needed for that picture using only Louisianans and created 18 jobs in the process. "Everybody was a hired local," he says. That's when he decided to move. He packed Spectrum FX into seven trailers and 14 shipping containers, rented a warehouse just outside the city, and started over.
In his office, a trailer outside the building, Kutcher begins to explain why it's so much easier to make a movie here than in Los Angeles. The Apes script is sitting on his desk. I restrain a sci-fi fanboy's urge not to slip it into my messenger bag while he looks up a datapoint on his computer. He has seven permanent staff, he says, and can scale up quickly to as many as 70, all with health insurance, for a big film. "If you're a resident, it takes you 30 days to qualify for the local union," he says, contrasting that with 18 months in California. Louisiana is a right-to-work state, which also helps keep salaries comparatively low.
Kutcher's base rate for a union position is $22/hour, about half the rate in Los Angeles, but the figure rises quickly for people practicing certain specialties. "When I first started at Spectrum FX, a lot of my work involved cleaning machinery and sweeping floors," says Justin Johnson, 27, who grew up in a suburb on the west bank of the Mississippi. "Over time I learned...various trades, including carpentry, fabrication, plumbing, and electrical work. I knew that learning these trades would translate well to other work within and outside the film industry."
The film sector isn't just creating local jobs; it's also luring workers from Hollywood, including actors. Laura Cayouette spent 18 years acting opposite Shirley MacLaine, Bill Paxton, Will Smith, Juliette Lewis, and Miranda Richardson. But she decided it was worth "taking a chance" on New Orleans, as she put it, because "the highest value here is community." She knew it would mean smaller parts, and it did. But when Django Unchained decided to film here, she landed a role alongside Leonardo DiCaprio as the sister of the film's villain. "There's better food, nobody cares what you drive, and it's cheaper to live," says Cayouette, of the advantages that come with being based in New Orleans. Plus, decentralization in the film business — thanks to personal computing, post-production work can be done anywhere, and is increasingly being done in New Orleans — means that big projects needn't originate in Hollywood. "Beasts of the Southern Wild proved that for the first time in history of the Academy, a film can be selected for best picture, best director, best screenplay, best actress with no studio, no money, no distribution to speak of."
Still, while new hires are glad for the boon, good-government groups question whether the tax credit is a smart use of state resources. Baton Rouge has handed out more than $1 billion since 2002 — at a time of deep state budget cuts to health care, education, and other areas. Reports by the Center for Budget and Policy Priorities in Washington and the Louisiana Budget Project say the rewards do not equal the costs. The LBP studied 2010 returns and found that the state treasury collected only $1 for every $7.30 it spent. Taxpayers paid $60,000 for every direct job the film industry created. The credit was never supposed to be permanent, critics say. It was meant to seed an industry that has now matured. So the incentive can now be removed, they argue, and the sector will continue to thrive.
But local proponents and a state-commissioned impact study say the trickle-down stimulus is hard to measure. Kutcher points out that he shells out for rental cars, gas, construction materials, food, and other amenities while he's shooting. An updated state report is expected to conclude that 14,000 direct and indirect jobs have been created by the film tax credits. "If we have $661 million spent in our parish [last year], and the state gave $270 million in tax credits, that's a good investment," says Scott Hutcheson, who runs the city government's Film NOLA initiative. "If you took out those millions overnight, you have a risk that's much greater on a municipal level — including to Baton Rouge in Shreveport [where many films are also made] — than the reward on a state level."
As it happens, Georgia has an equally generous, albeit newer, tax credit system, which many people I spoke with see as a rival. If Louisiana ceased to be competitive, says French, the tax-credit broker, "studios will go to Georgia." That's what happened when Michigan ended its incentives after giving the experiment just a few years. In which case Kutcher's move here, anticipating lots of business from Hollywood, would prove a very bad gamble indeed.