Running Out of TIME: The Slow, Sad Demise of a Great American Magazine
The weekly was among the first to invest heavily in the Internet. So how come Time.com never figured it out?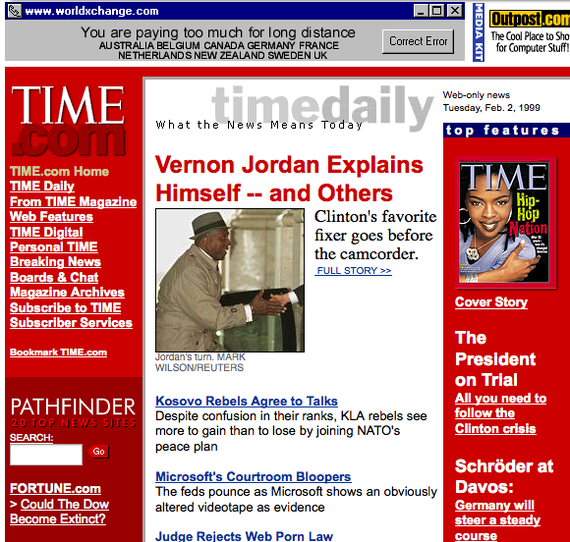 I can still remember how jealous I felt. It was the mid-1990s, and I was a reporter at Inc. magazine in Boston. At Inc., we had just convinced our owner to cough up a few dollars for me and one other editor to launch Inc.com -- in our spare time. But here I was, high above the ground in a mid-town skyscraper that Henry Luce built, and a fellow by the name of Bruce Judson was about to show me Time Warner's $100-million investment in a new media division. The company was on the cusp of launching a massive walled garden that would be the future of digital media and house more than 80 prolific Time Inc. brands. It was to be called Pathfinder, and its launch would include a digital graphic novel, unpublished photos from Entertainment Weekly, and Time Daily for breaking news.
Laugh all you want. But remember this was years before Google. Netscape had only recently launched, and AOL was just beginning its rise. There was no Internet bubble.

In short, there wasn't much competition for magazines, and Time Inc. was still a thriving media juggernaut. The company boasted a slew of profitable titles, and some -- namely People and Sports Illustrated -- were reeling in boatloads of cash for the company. They were also known for sticking with investments that weren't perfect right out of the gate. Titles like Entertainment Weekly could bump along at first because Time Inc. had the capital and commitment to stick with these sorts of rough beginnings and turn them into successes.
Plus, Time Inc. was brimming with talent. Don Logan was the much beloved CEO who came from the Southern Living Corporation in the early 1990s; underneath him was a house of heavyweight writers and editors such as Walter Isaacson and Dan Okrent. It could even attract technology talent as well as sales-force superstars like Jack Haire. Even though the economy wasn't sizzling back then, Time Inc. was in a classic position of strength and ready to flex its muscles in the new digital world -- well ahead of the pack.
But in spite of the early lead, the company has always appeared to be more victim of the web than vanquisher. Why has it never been able to fully reach its potential online? And more specifically why wasn't the web an amazing opportunity for Time magazine in particular to grow the brand around the world? It's a baffling question on many levels: Not only was Time among the first magazines online, but it was also constantly innovating with blogs, video and graphic animation - and much more. On the business side, Time pushed forward with huge interactive sponsorship such as a promotion that allowed pedestrians in Times Square to snap a photo of themselves that would appear simultaneously on a giant billboard and Time.com as Person of the Year, brought to you by Chrysler.

Gimmicky, yes. But innovative nonetheless.
36 Months
The newsweekly's long slide has been blamed on pretty much everything from lack of investment to the AOL merger. And of course there's the notion that the newsweekly category itself is simply no longer viable--that in the age of the Internet, the weekly rhythm is just too long. But then why the success of The Week or the Economist? For Time, the challenge wasn't just the weekly print cycle; it was the weekly print cycle plus a crushing load of fixed costs. It's expensive to support a model that demands reporters around the world, big name columnists, and massive distribution. The high costs means that there's virtually no room for Time to stumble.
Unfortunately, the brand would fall hard. I joined Time magazine in the summer of 2002 just after the bursting of the dot-com bubble. The largest project during my tenure as editor and general manager of Time.com was to digitize the entire archive going back to March of 1923 - which pushed me deep into Time magazine lore. I tracked the early days when the magazine first took flight to the WWII era when Time could sell more than 400,000 copies in a week even with some little-known Italian general on the cover.
It kept on growing after that. At its zenith the brand could reach more than 20 million people around the world each week. Time practically defined what it meant to be mass media. It was a brand for pretty much everybody. Television and then cable news (CNN in particular) eventually began to chip away at its position, and Time went though struggles and repeated attempts at reinvention through the years. But it took the arrival of the Internet to truly endanger it.
I can remember one offsite in Connecticut where we looked at financials that were showing steady declines in net income for the brand. By 2005 the magazine's circulation was just beneath 4 million subscribers and it averaged around 150,000 copies per week sold on the newsstand, according to the Audit Bureau of Circulation (ABC). Today Time averages less than 60,000 copies per issue on the newsstand, its subscriber base is down around 3.2 million, and ad dollars have taken a beating in print.

It's hard to image that there will be much left of the brand 36 months from now.
The New Math: More Readers, Less Money
The web is deceiving. It would seem to be a massively open and democratic system that would allow a brand like Time to reach everyone and reduce its costs along the way. But we're learning that it's more expensive and more difficult to build a distinctive relationship with an audience online. And it requires a very different approach to the business; it forces us to be much more strategic - to put finite resources against the goal of making something that no one else can make. Crafting a brilliant strategy of course is no sure bet. As A.G.Lafley and Roger Martin state in their new book Playing to Win (full disclosure: Harvard Business Review Press published it) strategy is just a way to "shorten your odds". For Time, a strategic approach might have led to a rethink of who its audience could be and what purpose its editorial served in a world plagued by information overload.
The funny thing is, Time co-founder Henry Luce had started out in the 1920s with a clear and focused vision of who his audience was and how the magazine would serve them: Time was for the busy man who needed to digest the week's news in about an hour. Luce was more elitist than populist -- the second magazine he started, Fortune, was originally an expensive, lavish product aimed at the 1%. But the huge success of Luce's third big bet -- the ultra-mass-market Life -- and the continued growth of Time eventually changed the emphasis at Luce's company and at Time in particular. The focus on the who and what of Time got lost - or bogged down in endless internal debates.
When the digital era arrived, the inevitable fragmentation of media made it virtually impossible for Time to hold onto its massive audience, but the enterprise never seemed to get that fact. Instead, it tried to bulk up on pageviews, open up its archive (which has since gone behind a wall) and go with the bigger-is-better approach. But in a world where CNN's 40 million unique visitors is small compared to Google's 170 million, the get-big-fast approach is a tough road, and advertisers can find cheaper rates and more effective outlets fairly easily.
For example, Google, which delivers a massive audience, but does so on an individualized level -- one search at a time -- that advertisers find far more appealing. At one point, Time probably could have invested in building a much deeper relationship with its core readers digitally. But that would have meant shedding many of the old ways of doing things that simply no longer created value. Easier said than done. Any one running a business for more than ten seconds knows how difficult it can be to make those sorts of hard choices.
The game might not be over just yet. Not because Time Inc. may be about to be spun off. For those who see a spinoff as a savior for brand, think again -- it won't address any of the real issues challenging the business, and with Time more directly exposed to the impatient scrutiny of stock-market investors it may be even harder to make bold moves. But Time is still a globally recognized brand, even after the long, drawn-out beating it has taken. If the people in charge of it take the time to figure out what makes them distinctive online and build an audience around this strength, who knows, they may still find a path of gold in the days ahead. But the odds sure are feeling longer.
>