Reuters
Americans still believe they can reach for the stars, but they are increasingly fearful they are standing on a trapdoor as they try.
That's the deeply ambivalent message from the latest Allstate/National Journal Heartland Monitor Poll exploring the public's perception of what it means to be middle class in America today. Fully 56 percent of those surveyed said they believe they will eventually climb to a higher rung on the economic ladder than they occupy now. But even more said they worry about falling into a lower economic class sometime in the next few years. Reaffirming the results in earlier Heartland Monitor polls, most of those surveyed said the middle class today enjoys less opportunity, job security, and disposable income than earlier generations did. And strikingly small percentages of American adults said they consider it "very realistic" that they can meet such basic financial goals as paying for their children's college, retiring comfortably, or saving "enough money to ... deal with a health emergency or job loss."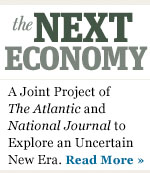 In all, the survey suggests that after years of economic turmoil, most families now believe the most valuable--and elusive--possession in American life isn't any tangible acquisition, such as a house or a car, but rather economic security. Asked to define what it means to be middle class, a solid 54 percent majority of respondents picked "having the ability to keep up with expenses and hold a steady job while not falling behind or taking on too much debt"; a smaller percentage defined it in terms of getting ahead and accumulating savings. "It seems like that class of the people just live from paycheck to paycheck," said Dale High, a trucker from near Idaho Falls, Idaho, who responded to the poll. "Everything is going up, but wages are staying the same. And people can't live like that."
The backdrop for these sober assessments is a darkening of the national mood since President Obama won reelection. The share of Americans who say the country is on the right track reached a four-year high of 41 percent in the Heartland Monitor survey conducted just after his victory in November. But that optimism plummeted in the latest survey to less than three in 10. The number of people who expect the economy to improve over the next year also skidded.