How Teenagers Spend Money
Ah, life without a mortgage, insurance, or savings.
One hundred years ago, the typical American family spent half its income on food and clothes. Today, thanks to massive gains in productivity in agriculture and manufacturing, we spend hardly a fifth of our budget clothing and feeding ourselves. But there is one group of Americans that still insists on spending about half its hard-earned cash on eating and buying nice clothes. It's teenagers.
Here's the graph breaking down the typical teen's spending, from a report by Piper Jaffray: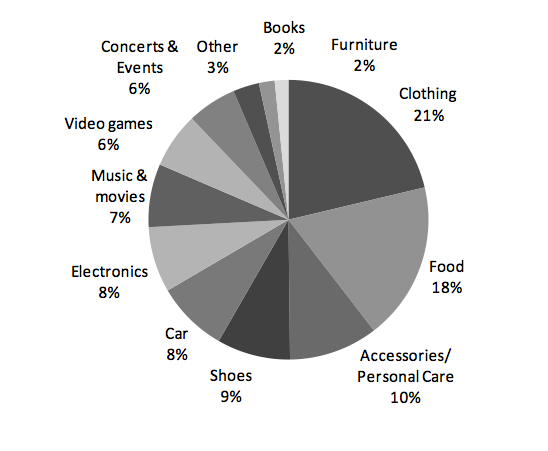 Compare that to the typical budget of a middle-class family (which kindly provides teenagers with much of their cash):
Okay, maybe that complicated (but colorful) graph doesn't provide the easiest comparison.
So I broke out the numbers from the BLS and compared a typical middle-class adult to a typical teen. I can't show dollar figures, since the study looks at percents only, so this graph compares the share of spending between teens and adults. Teens spend 14X more of their money on food; 8X more on books and clothes; and twice as much on the entertainment super-category, which includes electronics, movie tickets, concerts, and video games.
Basically, this is how we all wish we could spend our money if we didn't have to worry about a mortgage, insurance, savings, or any of that important "life" stuff.