How New Orleans Pulled Off an Economic Miracle
A conversation with Mayor Mitch Landrieu on why his city is now a magnet for traditional businesses and startups alike.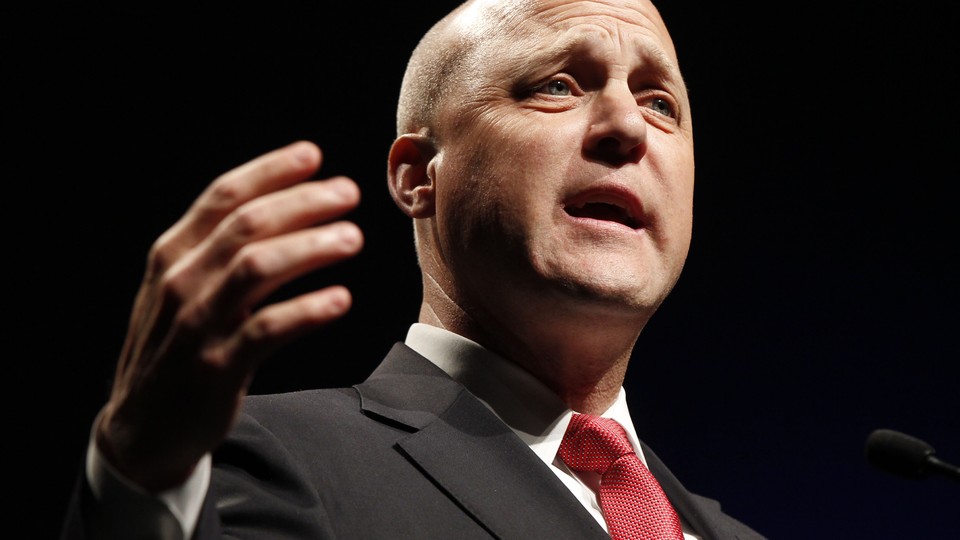 This article is the first in a weeklong America360 series on New Orleans. 
NEW ORLEANS — Things are looking up for this city. Partly, that's because anything is an improvement over the post-Katrina hellscape. But from tragedy arose opportunity: New Orleans has used the hurricane recovery effort to confront some of its longtime political, economic, and social pathologies — the problems that seemed to leave it on the bottom of those worst-in-the-country lists.
In some cases, the city started from scratch: After laying off every single public school teacher, the city charterized 88 percent of the school system, and has won impressive (if early) results. In other cases, New Orleans is benefitting from groundwork laid before the storm. Thanks to a state tax credit launched in 2002, movie studios are spending more in the city every year as crew members relocate and natives acquire production skills.
Yet another change has come from reversing the brain drain that for so long deprived New Orleans of homegrown talent. Spirited young do-gooders are flocking to town, opening service organizations and startups. New Orleans has the feel of Silicon Valley in the early 1990s. Unemployment is only 5.9 percent here compared with 7.8 for the nation. The municipal government is hoping to capitalize on, and reinforce, the trend by developing a $2 billion state-of-the-art medical research center and attracting top-flight scientists to run labs in two new research hospitals. It wants the "knowledge economy," as the mayor puts it, to take hold.
They city's mayor also represents a break from the recent past. Mitch Landrieu is the first white incumbent since his father left that office in 1978. And while the Landrieus may be a political dynasty in Louisiana (the mayor's sister, Mary, is a three-term U.S. Senator), these are tough times for political machines in New Orleans. Thanks to Landrieu's broad-based, multiracial political coalition (he began his first term in 2009), he has been able to slough off patronage awardees from city posts and contracts, inching closer to a meritocratic administration and rehabilitating the city government in the process. Meanwhile, "hospitality" — ever the economic anchor here — is almost back to pre-Katrina heights. National Journal's Adam Kushner--a New Orleans native--chatted with Landrieu about how the city's economy is changing, and how to make it last. Edited excerpts follow.
There's a sense of optimism I don't remember from growing up here.
Anybody who comes to New Orleans right now feels a palpable spirit of energy and hopefulness. They see physical manifestations of that transformation taking place in front of their eyes. You can see the medical complex going up, designed not just to take care of people's health-care needs or train doctors or do research, but also as a fairly aggressive step toward an information and economic development. You take the smart thing coming out of the research and turn it into a product; we're going to take the technology and transform it into a industry sector. The second thing is that we now have a working system of schools. We've redesigned the governing mechanism, and consequently you've seen the scores--which are what counts--begin to grow exponentially from the inner city. The achievement gap between kids here and in the state is closing rapidly. Graduation rates are now better than national average, and that's a structural change.
The people in New Orleans are not just deciding to build the city back the way it was. They're accepting responsibility to build it the way they always wanted it to be. It's amazing how many young people we have from around the country who are starting to create stuff.
How do you build a knowledge economy? And how does it serve upwardly-mobile New Orleanians who don't have elite educations?
Generally we've been a place with a lot of raw material and talent and intellectual capital, and we've extracted it and exported it. Think of Wynton Marsalis at Lincoln Center. So if you want to have a knowledge-based economy, you've got to create the kind of jobs. GE Capital [which recently opened an office in the city] basically said, "I like what you're doing down there." They put 300 jobs downtown. GameLoft [which develops smartphone games] did the same. Pre- and post-production film work is happening here now. All of a sudden, you're attracting these industries, and then you've got to supply them with workers. Kids are coming to New Orleans and don't want to live in the suburbs, they want to live downtown, so we have a construction boom, restaurants opening up.
Are the young people who move here staying?
Yes--they're becoming citizens and leaders of New Orleans. I have a bunch working in my office right now. They're moving into government, running for office, starting businesses. And because those jobs are here now, there's a pathway to prosperity, a pipeline to success, through primary and secondary education, from college and tech schools to [knowledge-economy] jobs. You want to train people so that an older, African American woman living in [a new, mixed-income development downtown] can walk down the street and have the job as phlebotomist at the new health center. You've got to train workers on the low scale, the medium scale, and the high scale. The same thing can be true about high schools and colleges.
Violent crime here is 80 percent worse than the national average. Does that put a ceiling on economic growth?
You have to know the difference between the crime rate and the murder rate. For the crime rate, we're number 73 in nation, meaning that major American cities are much less safe than New Orleans is. But the murder rate is 10 times the national average. Both those things are depressors, which is why we're spending so much time working on that. Who's killing, who's being killed, where they are, and how to change that--it's a complicated problem that has provided no easy answers for a long time. We hope, as the police department and the school system get better, and culturally we identify where the problems are, we can change it. But there's no question that it has a negative impact. It should not be a ceiling. It is absolutely possible to change that trajectory. New York did it, Chicago did it to a certain extent, though they're having trouble now.
Gov. Bobby Jindal wants to replace state income and corporate taxes with a flat sales tax, which might discourage tourists who don't want to pay a 15 percent surcharge for food and hotels. Are you bending the governor's ear about this?
I'm not in favor of that proposal. It's not good for the state. What's good for business and good for citizens — rich, middle class, and poor — is a diversified tax structure. In other words, it has sales, property, and income taxes in it with no exemptions and rates that are very low. [Jindal's] proposal is the opposite of that. It adds insult to injury. It's going to impose a heavy regressive burden on the poor, and business will have to pick up bulk of it. That's before you even get to killing the tourist industry, which is a $9 billion industry.
How can you tell whether the gains in the tech and entrepreneur sector are lasting, and will take deep root? These haven't really begun to represent a major share of growth yet.
When Forbes says we're most-improved and best for jobs, when the Wall Street Journal says you're best for business, something's happening. [New Orleans was the most improved metro on the Journal's "Best for Business" list last year, up 44 places from 2010. Forbes ranked Louisiana most-improved on its "Best States for Business" and gave New Orleans the top spot for "America's Brain Magnets," attracting college graduates under 25.] They're looking at objective data on a sea change of how a place operates. U.S. News says Tulane is the most popular school. All this stuff has nothing to do with culture and tourism and food. Now, seven years on, they're beginning to see how change works.
How can the improvements outlast your tenure?
There's probably no more important structural change for the future of the city than how the schools work. At some point, the governance of the school system has got to come back to local control [it is now administered by the state]--but not until we have absolute stability. We don't have that back yet. When it comes back, the new school board must be designed as an oversight board of schools that are run at the site, where the principal has autonomy, where he can fire and hire based on merit, students are accountable, and parents have choices. Those are the kinds of inputs that will close the achievement gap.