Why the White House Wants to Cut Entitlements
If we don't, we'll one day have to say goodbye to the government programs liberals love.
Why do we care about the long-term debt? For many, it's solely a moral question -- the idea that we shouldn't overburden our children and grandchildren with our bills. But it's a different question economically-speaking. It's not that too much borrowing will turn us into Greece (
it won't
) or set off an inflationary wave (it won't as long as the Fed does its job). No, it's a question of whether too much of one kind of spending will prevent us from spending on things we need.
That's how Gene Sperling, the National Economic Adviser to President Obama, characterized the administration's approach to entitlement reform today during his talk with editor-in-chief James Bennet at The Atlantic Economy Summit. Between rising healthcare costs -- which might be rising
a bit less quickly
now -- and an aging population, Medicare will put a crunch on the budget in a decade's time or so. As Sperling explained, that could crowd out both private
and
public sector investment. The latter includes things like education, research, and infrastructure -- in other words, the stuff that helps us grow.
And that's the stuff that, unfortunately, has already been cut to the bone. As you can see in the chart below from the
Bipartisan Policy Center
, the combination of the spending caps and the sequester from the Budget Control Act (aka the debt ceiling deal) have sent non-defense discretionary spending far below its lowest level since 1970.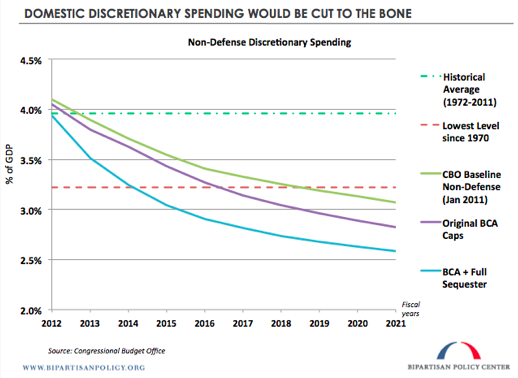 Even in a world where the Republicans weren't pressuring the administration to tackle long-term entitlements, Sperling said they would make doing so a priority as part of their overall plan. That overall plan is one for inclusive growth -- and growth requires making the type of investments we'll have more trouble making, at least politically, if we don't stabilize the long-term debt.
It's the dove's guide to being a deficit hawk.