There Are 2 Federal Budgets: One Is Growing and One Is Shrinking
We speak of The Federal Budget as a monolith. But there's nothing monolithic about the federal government. What we call "Washington" is a million little and big programs doing a million little and big things, but we add them all up to One Number, because they all fall under the umbrella of federal spending.
So, let's be a little more specific (but only a little). Let's talk about two federal budgets. The part that's growing. And the part that's shrinking.
What's growing, as a share of the economy over the next 20 years is Medicare, Medicaid, and Social Security. What's shrinking is, well, everything else. At a glance: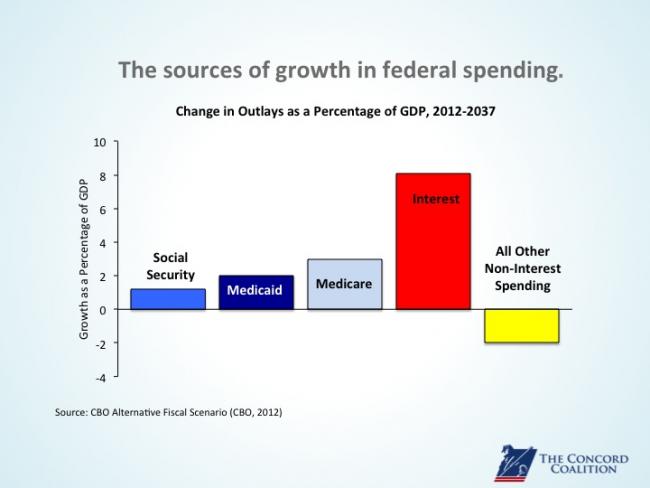 You would think that a serious deficit hawk would want to cut the part that's growing. Instead, what Paul Ryan's plan does over the next ten years is to concentrate 97 percent of his $5.6 trillion cuts in the part that's already projected to shrink. He hardly cuts Medicare or Social Security, at all ...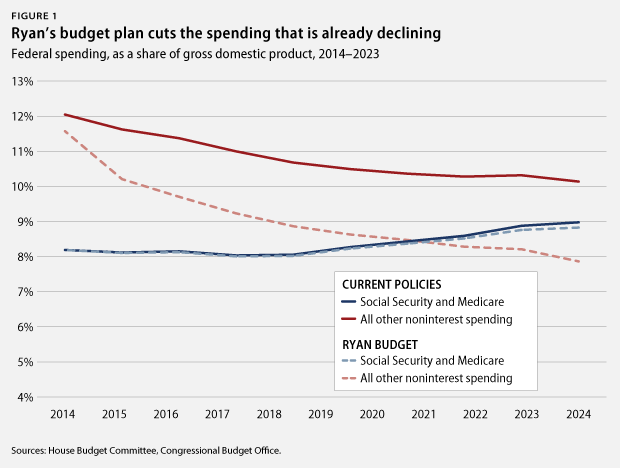 ... to which you might say, "Great!" Say you're in your 50s, you love Social Security, you don't want Medicare to change, and you happen to hate infrastructure, education, R&D, and income-support programs for the poor. This is the plan for you!
But let's say you're worried the federal government is pulling away from productive spending on young people and infrastructure. Let's say you know the U.S. government already spends 2.4 times as much on the elderly as on children, more than practically any economy except Japan and Greece (some company, there). Let's say you don't think we should slash our already-shrinking investments in the future to spare our already-growing insurance payments to retired folks. Then this is not the plan for you at all. It's the opposite of the plan for you. It's an excuse to drown productive federal spending in a bathtub to protect spending on today's older voters at all costs and, just as importantly, spare the rich from paying more taxes.
The deficit debate isn't just about the deficit figures we want. It's about the kind of government we want. Demographically speaking, government of the old, by the old, and exclusively for the old is probably going to perish sooner or later, don't you think?