The Worst Victims of the Education Sequester: Special-Needs Students and Poor Kids
Thanks to Washington's budget showdown, our neediest kids will see the deepest cuts.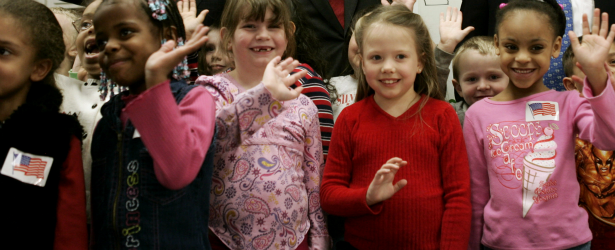 Reuters
The sequester's guillotine has little regard for good or bad programs as it unselectively slices spending across the country, but perhaps nowhere does its indiscriminate blade fall more harshly than within education. The students who will lose out will be the ones we should be most careful to protect: children from poor families and special needs kids.

Federal funding for education will be slashed by 5.1 percent, until Congress can agree on a new budget. Though the federal government only makes up about 10 percent of the total education spending, this share is significant in every town budget. Schools need Washington's money to provide basic services for its students, as states and localities have faced their own budget crises in recent years.

To understand the severe unfairness of these cuts, let's start with a brief primer on federal education funding. The majority of federal funding for education is targeted for two groups of school kids -- the poor and the disabled. Title 1 (federal support for low-income school districts) and Head Start (the pre-school program for disadvantaged children) serve the disadvantaged kids. The Department of Education support for special education amounts to between a sixth and a quarter of education spending in any given year.
Here is the overall breakdown of $78 billion in federal spending on elementary/secondary education. As you can see, almost half goes to Title 1, special education, and Head Start. Another third goes to support school lunches, improvements, and aid. Note that Head Start comes from Health and Human Services, and the Department of Agriculture oversees the school lunch program .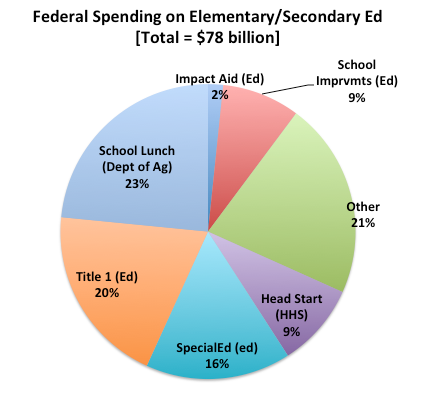 These programs will see sizable cuts in their budget. Title 1 and Head Start will lose $740 million and $406 million, respectively. Special education will lose $644 million. Other cuts include: $58.8 million in Impact Aid, $126 million in Teacher Quality State Grants, $59 million in 21st Century Community Learning Centers, and $9 million in rural education.
The NEA estimates that 7.4 million students and 49,365 school personnel will be affected.
The Department of Education provides a state-by-state breakdown of the impact of these cuts. Texas, for example, will lose $67.8 million in general education funding and $51 million in special education funding. New Jersey is slated to lose $11.7 million in general education funding and an additional $17 million in special education money.
Localities are obligated by law to provide services to special education students, however the law is vague about the quality and amount of services. Special needs kids may receive less speech therapy or be crammed into crowded, unsafe classrooms, as a result of these cuts. These cuts could also have more subtle consequences: School districts could be reluctant to classify kids with less severe disabilities if they foresee cuts for these programs.

Also, local districts may be forced to reduce services for non-special needs kids in areas like art and music to make up for the budget gap. School districts are already straining under the high cost of educating special-needs kids, and even without the cuts, Washington has never funded special education at levels that were originally promised under the Individuals with Disabilities Education Act.
School districts are in for some ugly fights as they plan for the 2013-1014 budget year. Parents of special-needs and disadvantaged kids hold their breath and hope that their children's education isn't a casualty of Washington's absurd budget wars.
>