The Online Lenders That Could Break the Payday Loan Racket
Same-day loans provide quick cash to many Americans--but with crippling fees. New online lenders may provide a path to good credit.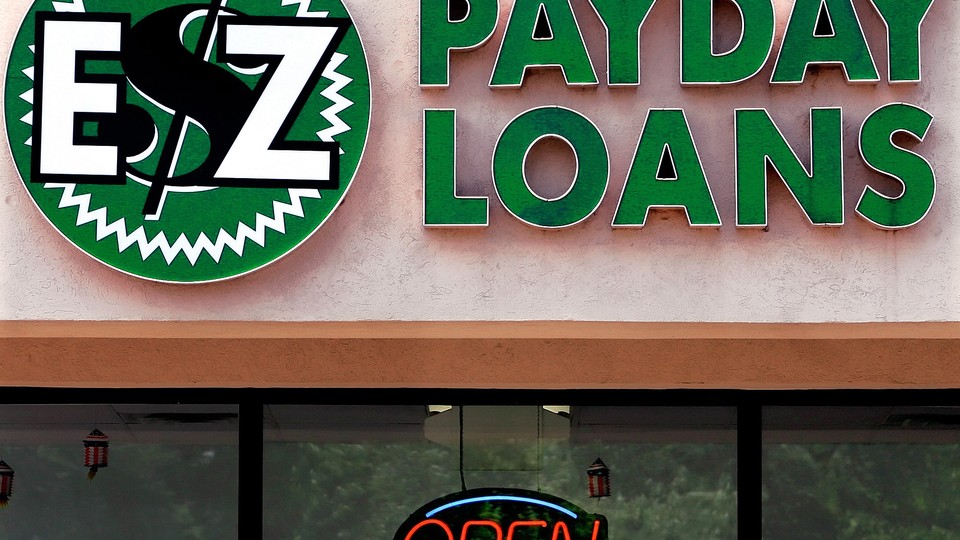 When Tara Richardson and her family moved into a new home recently, the cost of the professional movers put her over-budget. An elementary school teacher in St. Louis, Missouri, Richardson had taken out payday loans in the past to cover emergency expenses, but she was frustrated with the high fees associated with the short-term, small-dollar loans. So this time, she turned to a new online lender called Spotloan. Their loans, she found, were just as convenient as payday loans. But the interest rates were more reasonable.
Twelve million borrowers take out a cash advance known as a payday loan each year, according to the Pew Safe Small Dollar Research Project. Pretty much anyone who draws a paycheck can qualify for such loans. A good chunk of the $7.4 billion borrowed goes towards fees, which are how the lenders turn a profit. The typical payday loan of $300, due in two weeks, carries a $45 fee. That works out to a hefty APR of 390 percent.
A cohort of startups like Spotloan, LendUp, and FairLoan think they can provide people living paycheck-to-paycheck with a better source of credit. And they're processing reams of personal data to identify reliable borrowers and create loan structures that — they hope — can guide people living on the financial margins into the financial mainstream.
"Everything we build has to be a ladder," says LendUp CEO Sasha Orloff, referring to his company's goal of helping customers with little savings and not much of a credit history climb toward financial security. LendUp's website offers loans of up to $250 due in no more than 30 days. Loans don't roll over, borrowers who pay off their loans early are charged less interest, and those who pay off loans on time are lent money at lower rates in the future.
A 30-day, $250 loan from LendUp carries a fee of $44, about half the rate offered by competitor payday lenders in California, says Orloff. Over time, LendUp aims to transition responsible borrowers into a 2 percent monthly interest rate loan that can be reported to a credit union or bank. The information helps borrowers establish a credit history, which will help allow them to qualify for bank loans in the future.
With wages stagnant and the cost of living rising, even middle-class Americans are turning to cash advances to help cover their expenses. For some borrowers, the payday loan makes financial sense. It can be cheaper to take out a payday loan than to be hit with bank fees when a check bounces, and defaults on payday loans aren't reported to credit bureaus. For those without a credit history, payday loans can be their only option.
Traditional financial institutions have been reluctant to offer instant cash advances. Payday lending is a risky business: lenders keep their fees high for everyone to cover the cost of the few who default. Some community banks and credit unions give out small-dollar loans at a lower interest rate, but they tend to take additional precautions, like charging an annual fee.
The new nonbank lenders are betting that data analysis can help them get a better idea of which customers will be most reliable. LendUp approves 30 percent of loan applicants after processing digital records like the history of a borrower's phone bill, rent payments, and even social media history.
"Currently, underwriting in the payday loan space is basically: do you have a pay stub, do you have a bank account, and do you have a heartbeat," says Douglas Merrill, Founder and CEO of ZestFinance, which created the data analysis technology now used by a number of the new online lenders. To Merrill, a former Google CIO, all data has the potential to be credit data.
ZestFinance runs thousands of variables through ten mathematical models to come up with an assessment of how credit-worthy a given person is. Not only does the process generate a more accurate assessment than a traditional industry score, according to ZestFinance, but it takes just seconds to calculate.
The underwriting model Merrill developed now powers Spotloan. Thanks to better underwriting and an online platform — cheaper than a brick-and-mortar store — Spotloan can offer loans at about half the cost of a traditional payday loan, Merrill says. Spotloans are also structured in a way that makes them easier to repay: borrowers pay off both interest and principal in installments, as they would for a mortgage.
ZestFinance and its peers want to give people better credit options, not get more people into debt. But after a global financial crisis propelled by reckless borrowing, some consumer advocates question the wisdom of offering a new source of cheap credit.
"For a lot of people who are struggling with their finances, another loan — more debt — is not the answer," says Lauren Saunders, Managing Attorney at the National Consumer Law Center. "If they can't get a loan at a reasonable price, they are better off tightening their belts." For customers who have trouble paying back their loans on time, some online lenders can be just as expensive as traditional payday loans. Spotloan, which is owned by the Turtle Mountain band of Chippewa Indians in North Dakota, makes clear on its website that its APR can go up to 390 percent.
Most people who turn to payday lenders aren't taking out an emergency loan: they're habitual borrowers taking out cash to pay their rent, their credit card bills, or even to buy food, Pew found. Eighty-one percent of borrowers surveyed said that they'd cut back on expenses if payday loans weren't available.
Consumer advocates also worry about the privacy implications of big data analytics. "A lot of these new, high-tech, big-data programs, it's not clear how they sit under the Fair Credit Reporting Act or whether they're complying with it," Saunders says. And, of course, in order to have benefit from loans from LendUp and other providers, customers need to have reliable internet access.
Transitioning marginal borrowers into the credit mainstream will take more than one loan, or even a series of loans. The bigger impact may come from another direction: changing how a person qualifies for mainstream sources of credit.
ZestFinance has already spoken to four of the five largest credit card companies and a few credit unions about adopting its underwriting technology. "Very few of them have subprime offerings," says Merrill. "But all of them are interested in finding ways to more effectively underwrite."