Picking Up a Diagnosis With Your Doritos
With retail clinics at a growing number of neighborhood convenience stores, you may not have to wait for a doctor's appointment.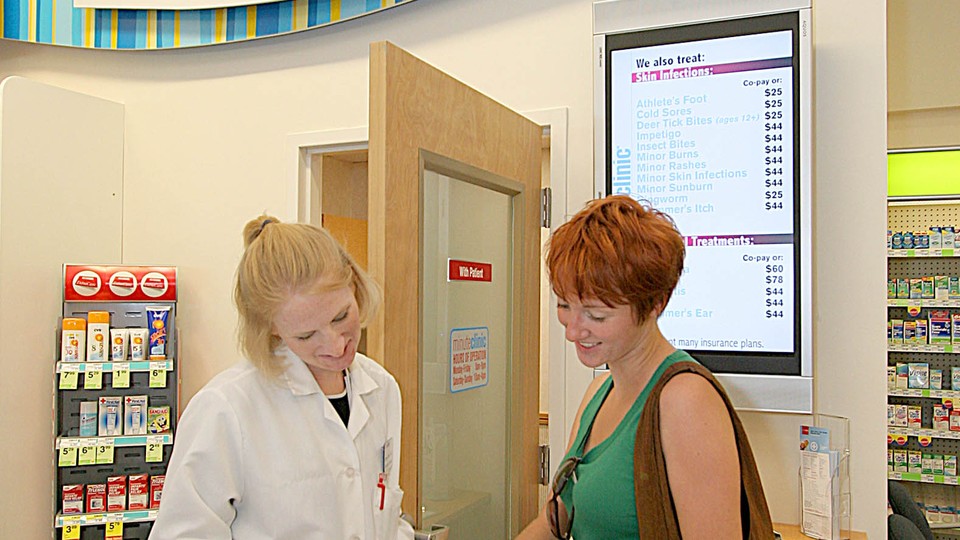 It used to be that if you were running a fever you had three options. You could stay home, wait for a doctor's appointment, or take your chances with a local hospital's emergency department. About a decade ago, three Minnesota entrepreneurs came up with a fourth option: a walk-in clinic that would provide fast, inexpensive care for simple ailments. CVS Caremark bought them in 2006, and these days there is probably a MinuteClinic not far from you.
Retail clinics like MinuteClinic offer patients convenience and clearly-posted prices. They treat only basic conditions and primarily serve customers who have health insurances. But the clinics are a practical way to address the big question that continues to bedevil the American health-care system: How can we provide more care at a lower cost?
The rapid expansion of walk-in clinics — there are now approximately 1,400 retail clinics around the United States — could have consequences for the larger health-care industry. "These fairly low-cost services are forcing responsiveness by the entire provider community around patient convenience," says Tom Charland, CEO of the research and consulting firm Merchant Medicine.
The combination of health-care reform and an aging population mean that the U.S. is going to see a tremendous growth in demand for primary care services in the years ahead. There aren't enough primary care doctors to meet that demand — and even if there were, doctor visits can be expensive. MinuteClinics keep costs down by employing nurse practitioners and physician assistants instead of doctors.
The medical professionals at retail clinics treat simple conditions like sore throats and sunburns, offer vaccinations, and conduct physical exams. Patients can stop in seven days a week for a 20-minute examination that costs between $60 and $80 — for customers with health insurance, their co-pay is around $20. Treatment options and prices are clearly posted.
"Our goal is really to treat routine problems," says Andrew Sussman, president of MinuteClinic. Staff follow clinical practice guidelines, he says, and they can call a physician if they have questions. Customers who don't have a primary care physician are given a list of area doctors who are taking new patients.
Care at a retail clinic "is about 30 to 40 percent cheaper on a per-visit basis than care at a doctor's office, and 80 percent lower, on average, than the care at an emergency department visit," says Ateev Mehrota, policy analyst at the RAND Corporation. A flu shot given by a nurse is cheaper than one given by a doctor, even though it's the same injection.
For store chains like CVS, Walgreens, and Target, retail clinics aren't a big moneymaker. But they do draw in customers who might make other purchases. In the same way, hospital systems and medical groups have opened or partnered with retail clinics in order to draw new patients into their networks. "You've got commercial health insurance plans racing against hospitals to control the front door," says Paul Keckley, executive director for the Deloitte Center for Health Solutions. "The front door is primary care."
In many ways, walk-in clinics illustrate a larger shift already taking place in the health-care industry, as physician assistants, nurse practitioners, and medical assistants take over services traditionally provided by doctors in order to cut costs. Allowing lower-credentialed professionals to take on more tasks frees up physicians to focus on more complicated cases. But it also make it harder for doctors to get to know individual patients.
Medical associations worry that widespread use of walk-in clinics will fragment patient care. "You cannot manage diabetes just by going someplace and having somebody check your blood sugar," says Reid Blackwelder, president-elect of the American Academy of Family Physicians. Yet for a busy person in reasonably good health, a retail clinic is a pretty good option. A RAND Corporation study found that the care retail clinics provide is comparable to the quality of care from a medical office or urgent care center for similar conditions.
What retail clinics don't do is reach underserved populations. Most clinics are situated where you'd find a Target: in affluent urban or suburban areas. The typical patient is a young adult who has health insurance but isn't seeing a primary care doctor. Although many clinics accept Medicare, regulatory hoops at the state level mean that few clinics accept Medicaid.
There's hope that the retail clinic model could get providers thinking about price transparency. It's hard to bring healthcare costs down when those most directly involved — the patient and the physician — have no idea ahead of time what a given treatment will cost.
"They should know how much it costs. And they should have that stuff baked into their practice management system, so that someone at the front desk can answer the question," Charland said of doctors. Even specialists can run the numbers on billing codes and figure out how much a procedure will cost and what a given health insurance plan will cover, he said.
Charland worked for MinuteClinic in its early days and knows that figuring out prices takes time and effort. But he also knows it can be done. "That's the MinuteClinic model," he says. "That's what we did."
Clarification: A previous version of the article did not clearly state retail clinic hours. They are typically open seven days a week and past 5:00pm on weekdays.