Paul Ryan's GOP Budget vs. the Senate Democrats' Budget—in 1 Graph
It's Budget Week in America. First, Paul Ryan released an update to his conservative vision of America, proposing trillions in spending cuts, mostly to health care. Yesterday, Senate Democrat responded with their own budget, which cuts about $1 trillion, raises about $1 trillion in taxes mostly by limiting deductions for richer families, and throws in a $100 billion stimulus.
How do these plans compare? Here's how: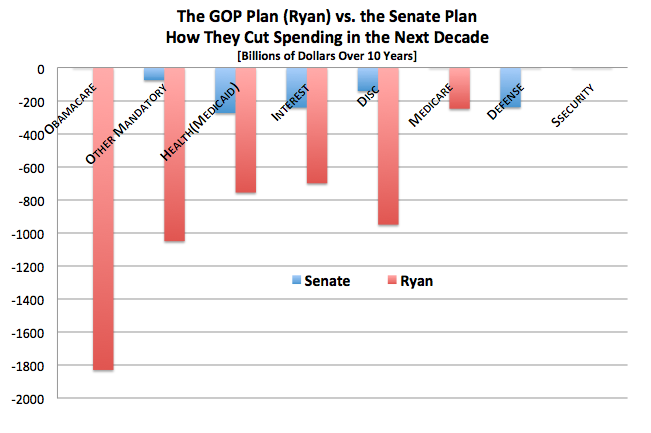 Four key takeaways:

(1) Ryan is most famous for his plan to reform Medicare. But in the next ten years, his budget is first and foremost a sledgehammer to everything except Medicare (and defense and Social Security).
(2) What's "other mandatory" spending? It's mostly income security programs (unemployment insurance, food stamps) and retirement and health benefits for the veterans and federal employees.

(3) Remember that half of the Senate's savings come from new revenue. Even so, Ryan's cuts are far deeper because he intends to balance the budget by the early 2020s, a goal that is arbitrary and almost certainly unnecessary, since we can run small deficits forever (and have).

(4) Zero cuts for Social Security in both plans. Who's afraid of senior citizens? The representatives elected by them, evidently.

Boring (but important, and necessary, etc) methodology note: If you're asking yourself simply, What do these cuts represent? they represent cuts in a world without a sequester.

But comparing these budgets isn't like comparing apples to apples. It's not even like comparing apples to oranges. It's more like comparing an apple to something that looks like an apple, but later you learn is not really an apple.
Let me explain plainly as I can. The Senate Democrats' plan assumes no sequester. The Ryan budgets assumes a sequester in which practically all of the cuts occur in non-defense spending, according to Michael Linden at the Center for American Progress and Loren Adler at the Bipartisan Policy Center. In the nitty-gritty breakdown of spending by function (Defense, Agriculture, Education, etc), Ryan's budget assumes that defense spending in 2023 is practically the same as the CBO projected before the sequester became law. But he also includes total discretionary spending (defense and non-defense) that reflects the sequester.

In short, he dreams a little conservative dream: America keeps the sequester, but moves practically all the defense cuts over into non-defense cuts. Another bit of magic.