Intrade, the Web's most famous marketplace of predictions, has shut down "in accordance with Irish law." (You might know it as the e-oracle of American political elections, but the company is based in Ireland.) In November last year, the Commodity Futures Trading Commission filed a lawsuit against the company, claiming it was letting Americans bet on the price of commodities (like gold) on an unregulated exchange, which is against U.S. law. In December, the company suspended trading for all U.S. customers.
If you visit Intrade.com now, you will find the following page: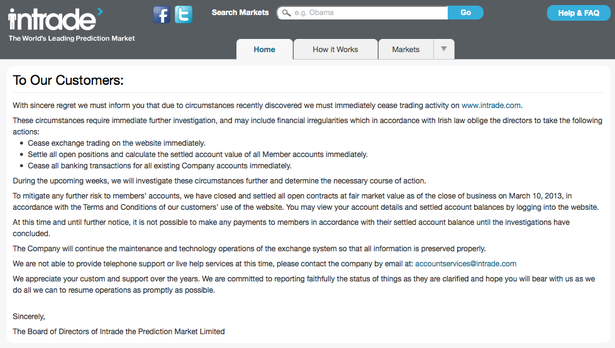 The money quote from this message:
These circumstances require immediate further investigation, and may include financial irregularities which in accordance with Irish law oblige the directors to take the following actions:

Cease exchange trading on the website immediately.
Settle all open positions and calculate the settled account value of all Member accounts immediately.
Cease all banking transactions for all existing Company accounts immediately.
It is against U.S. law to buy or sell commodity options -- that is, to bet on the future price of commodities, such as gold, copper, and oil -- except on a registered exchange. The CFTC claims this is necessary "to police market activity and protect market integrity." When the Commission charged Intrade on November 26, its release said:

Specifically, according to the complaint, from September 2007 to June 25, 2012, Intrade and TEN operated an online "prediction market" trading website, which allowed U.S. customers to trade options products prohibited by the CFTC's ban on off-exchange options trading. Through the website, Intrade and TEN allegedly unlawfully solicited and permitted U.S. customers to buy and sell options predicting whether specific future events would occur, including whether certain U.S. economic numbers or the prices of gold and currencies would reach a certain level by a certain future date, and whether specific acts of war would occur by a certain future date.

The CFTC's complaint also charges Intrade and TEN with knowingly filing false "Annual Certification" forms with the CFTC stating that Intrade limited its options offerings to eligible market participants. Contrary to these representations, the complaint alleges that Intrade unlawfully solicited and permitted retail U.S. customers to buy and sell off-exchange options on the website.

In addition, the complaint alleges that TEN violated an order issued by the CFTC in 2005 that found that TEN had previously engaged in similar conduct and ordered TEN to cease and desist from violating the Commodity Exchange Act and CFTC regulations, as charged.
For those with money tied up with Intrade, the company says it has "closed and settled all open contracts at fair market value as of the close of business on March 10, 2013" and that they can still see their account details by logging into the site.