Associated Press/Jessica Hill
Making it in America used to mean earning enough to send your kids to college. These days, it requires getting a degree yourself first--and then possibly upgrading your credentials and skills to qualify for a promotion or to switch fields. Education, as President Obama likes to say, isn't a luxury-good anymore. It's a necessity.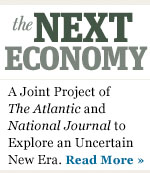 Online education institutions have long served students who want to get a higher degree on their own schedule, and who aren't looking for the dorm experience, student center, and extra costs that come along with a traditional residential campus. Online education has also long revolved around testing: students move forward based on what they know, not based on how many hours they've spent in class.
The next generation of innovators, such as StraighterLine and UniversityNow, are further redefining what constitutes a course credit and how learning can be priced. Pending legislation in California could scale up the shift, by requiring public universities to grant credit for faculty-approved online courses like those offered by StraighterLine.
StraighterLine isn't an accredited institution, because it doesn't award degrees. It allows students to take online courses, for credit, that they can then transfer to an institution. A monthly membership of $99 gets students access to as many $49 courses as they can handle. An entire freshman year costs just $1,299.