How Did These Kids Score Good Jobs Right Out of High School?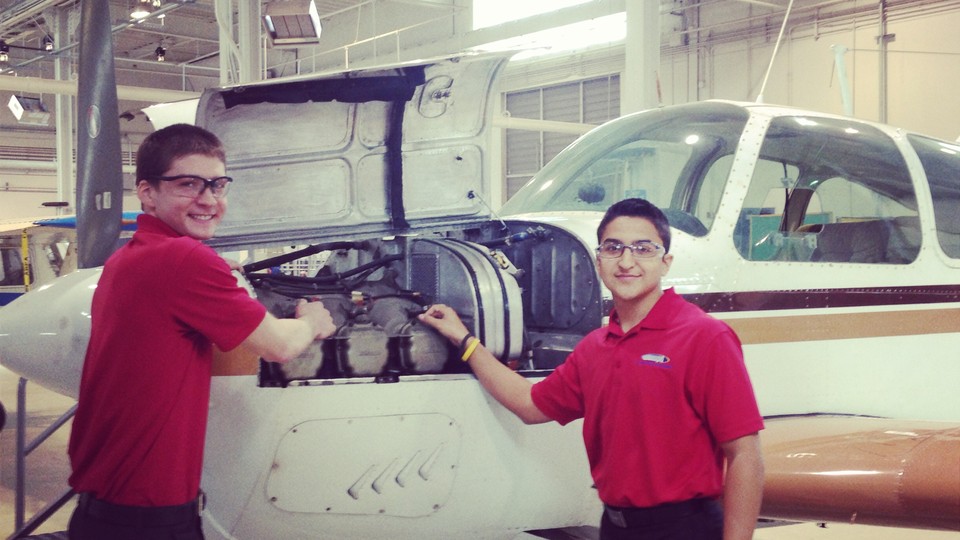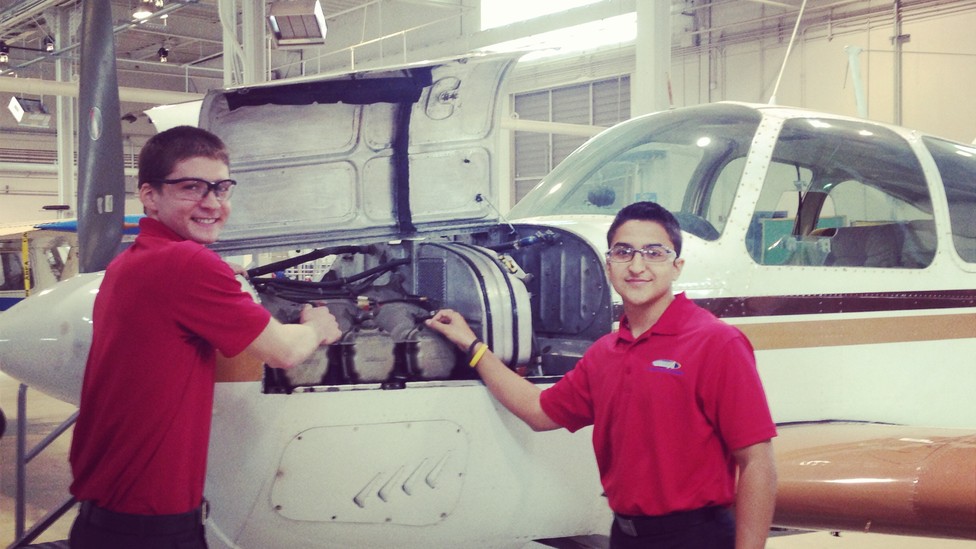 This article is part of a week-long America 360 series on San Antonio.
SAN ANTONIO--Frank Pena doesn't have much time to chat, because he's repairing a jet engine. The 24-year-old technician at Lockheed Martin is a big guy, but even he looks tiny compared with some of the engines — from the Air Force's C-5 to the commercial 727 — arrayed in the factory. Pena is here, and not flipping burgers at McDonalds, because of a decision he made when he was a sophomore in high school. He enrolled in the Alamo Area Aerospace Academy.
"They wish they'd done the same thing I did," Pena says of his high school friends, some of whom are working in low-paying service jobs. San Antonio's four industry-driven Alamo Academies are demanding programs that leave almost no time for extracurricular activities, like band or football. But Academy graduates leave high school with half the credits they need for an associate's degree, with solid work experience, and — if they're lucky — a job offer from a major corporation.
San Antonio has a relatively young population, but what it lacks is a highly educated population. In 2009, the graduation rate for the city's public high schools was 75 percent. And less than one-quarter of San Antonio residents have a bachelor's degree or higher, lower than the state average of 26 percent.
"It's less educated than its competitor cities, and it has a higher high school dropout rate," says Keith Phillips of the Federal Reserve Bank of Dallas. "That's a big challenge for San Antonio. As employers demand more and more skills, San Antonio has got to provide more and more skills."
Job-skills training is a popular policy issue in the wake of the Great Recession — President Obama made it a centerpiece of his reelection campaign, and House Republicans have pledged to make federal job-training programs a priority in the current Congress. Yet the Alamo Academies got their start in the early 2000s, an inauspicious time for vocational education nationally, and particularly in Texas. As Texas governor and then as president, George W. Bush focused on accountability testing in education. Getting kids to pass academic tests and make it into a four-year college remains a priority for schools here, but the success of the Alamo Academies is turning heads.
The Aerospace Academy began because Lockheed Martin had a problem: Workers were reaching retirement age. San Antonio had long been a center of heavy-aircraft maintenance, thanks to its local Air Force bases. But no pipeline existed to encourage and train young people to enter the field.
So Joe Wilson, then the manager of staffing and development at Lockheed Martin, approached a local community college to talk about possible solutions. Within a few years, the aerospace sector, independent school districts, city hall, and the Alamo Community Colleges had developed a program that would, they hoped, encourage teenagers to consider a career in the aerospace industry, and accelerate their path to becoming certified mechanics.
Students who are accepted into the competitive Aerospace Academy spend their junior and senior years of high school taking courses that count toward both a high school and a community-college degree, at no charge. They also complete a paid summer internship hosted by an industry partner. The program has proved so successful, Wilson says, that about 20 percent of Lockheed Martin's directly hired workforce now comes from the Aerospace Academy.
The program inspired other industries to follow the same model. San Antonio now has four such academies, which train students to work in aerospace, manufacturing, health care, and information technology. All four are dual-credit programs that include a paid summer internship.
Graduating with so many college credits is a significant benefit, even for students who don't get hired right away. "They basically earn a $6,000 to $9,000 scholarship before they graduate from high school," says Gene Bowman, executive director of the Alamo Academies. If a student is hired by an industry partner, he or she could receive a full ride: Many of the companies that partner with the Academies have generous benefit packages that help support an employee's part-time pursuit of higher education.
The promise of free college credits attracted 17-year-old Jacob Trevino to the Aerospace Academy. "It just blew my mind," he said, to learn how many credits he could earn while still in high school. Trevino likes mechanics, but he's more interested in business. No problem: It's not unusual for academy graduates to transition from the factory floor to the business office over time, earning bachelor's and master's degrees along the way.
The Alamo Academies aren't going to connect every kid in San Antonio with a job. They're small, enrolling a maximum of 235 students each year. While any student living in one of the city's 16 school districts — plus charter and homeschooled students — can apply, only those deemed college-ready are accepted. And schools on the city's wealthy North Side, which are focused on getting students into a four-year college, are less likely to embrace the Alamo Academies than schools in poorer areas.
"I don't think we're going to take that specific model to 10 or 100 times the scale," says Richard Butler, professor of economics at Trinity University. A former chairman of the Alamo Academies, he is exploring a model that would allow students to take career-focused college courses while in high school. There wouldn't be a hands-on work component, but work-site visits could give students exposure to the jobs they're preparing for.
Ultimately, however, how to reach more young people might not be the right question. The Alamo Academies are sized to the workforce needs of participating companies, not the number of students who could benefit from vocational training. Lockheed Martin took on just two interns last year, although it has accepted as many as 11 in past years. As military spending shrinks and the business cycle fluctuates, Lockheed's hiring needs will change.
"You have a pull of these students into these industries, not a push," Bowman said. "Because what if they graduate, and have all these skills and all these hours, and nobody's hiring them?" By bringing employers and schools together, the Alamo Academies make sure that the program suits San Antonio's needs — and also gives students a head start on their careers.