Drunk Math: Why Tax Breaks for Craft Brewers Make No Sense
The much-loved industry wants a break on its IRS tab, but it's growing just fine as is.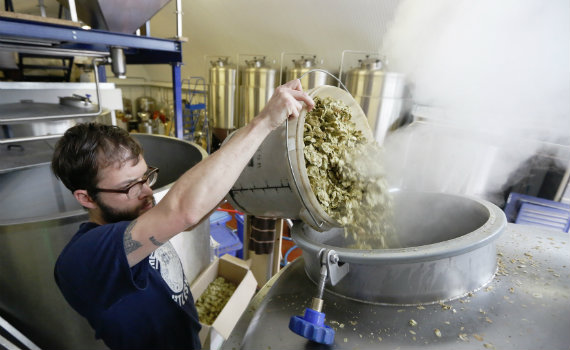 (Reuters)
Craft brewers are a lovable lot. They're small business owners, who by the rules of our political discourse are the most hallowed Americans other than high school quarterbacks and marine infantrymen. And they make beer -- really delicious beer that's freed our bars and backyard barbecues from the tyranny of tasteless yellow fizz.
Being lovable, though, does not entitle you to a tax break. And according to The New York Times, that's just what the country's small (or smallish) beer makers are gunning for on Capitol Hill. A bill introduced by the House Small Brewer's Caucus — which a) somehow exists and b) has a remarkable 116 members — would cut taxes paid on each barrel of beer. Like a thousand less-sympathetic special interest groups that come hat-in-hand to Congress every year, the brewers claim their bill would boost the economy by allowing them to expand and hire more workers.
And maybe it would. A little bit. But that doesn't make this legislation particularly smart or necessary. Craft-brewing is already growing at a breakneck pace. Business was up 15 percent by volume in 2012, even though U.S. beer sales have been basically flat for two years now. According to the Brewers Association, the industry's chief lobbying group, 409 small breweries and brew pubs opened their doors last year. Another 1,200 are supposedly in the "planning stages." You'd have to squint really, really hard to see the strains imposed by taxes.
Whatever economic benefits the Small BREW Act might bring, they would probably be far more modest than the industry claims. In an analysis conducted last year for the Brewers Association, Harvard Kennedy School professor John Friedman estimated that the tax cut would cost Washington just $86 million dollars over five years, yet somehow generate $883 million in economic activity — a multiplier of more than 10-to-1.
If that were true, it might make tax-breaks for micro-brewers the single most powerful economic stimulus the United States has ever known. More likely, it's just a bit of drunk math. 
The closer you look at it, the less sense the craft brewers' argument makes. The industry claims that cutting taxes would let them lower their prices, which would create more sales. But since the overall size of the beer market doesn't seem to be growing, there's no reason to think those sales wouldn't just come at the expense of mega-brewers like Anheuser-Busch InBev. And maybe you're all for helping the little guy. Maybe you think craft-brewers do more for local economies than the international beer giants, which send some of their profits off to global investors. But at least one of the major beneficiaries of this tax break, Boston Brewing Company (which makes Sam Adams), is a relatively large public company. And the macro-economic difference between Americans buying cans of Dale's Pale Ale instead of Bud Light Lime-a-Rita is, at most, tiny. 
Today, the Brewer's Association says the tax break would only cost about $67 million, which is basically a stray cake crumb in the scheme of the federal budget. But as a matter of principle, Congress shouldn't be in the business of doling out welfare to small businesses or corporations without a compelling reason. If we want to get behind better beer, the place to do it is at our local liquor stores.