You Are Spending $900 More Per Year on Gas Than in 2009
In the years since economy tanked, Americans have been driving fewer miles in their cars and buying more fuel efficient vehicles. Unfortunately, that hasn't spared them much pain at the pump. According to a new report from the EIA, the average household now spends 4 percent of its annual pre-tax income on gasoline, up about a percentage point from 2009. That translates to roughly $2,900 a year, or $900 more annually. As a point of comparison, a month's rent averaged $1,048 nationwide by the end of 2012.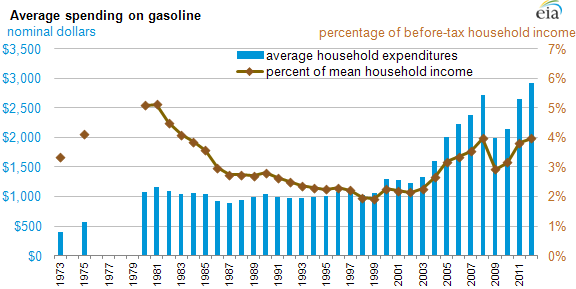 This is partly a story of scarcity beating efficiency. World demand for oil has surged back since the recession, pushing up fuel prices faster than motorists can cut back on their road time or upgrade to higher MPG vehicles. But another factor at play here is stagnant incomes. Oil and gasoline prices stayed low in the 1990s as household earnings rose. The last decade saw the opposite trend -- real mean incomes dipped about 6 percent from 2001 to 2011 -- so that the average household now spends two percentage points more of its income fueling up than a decade ago.
To put that rise in perspective, it's about the same as the payroll tax hike that economists believe could shave as much as 0.6 percent off of GDP growth this year. Of course, some of the money Americans spend on gas gets plowed back through the economy through corporate profits. So that's a silver lining of sorts, at least if you work for Exxon.