'You Are Gay,' 'Fax Me,' 'Let's Read,' and 17 More Amazing Retired Sweetheart Candy Sayings
"Love Me." "Marry Me." "Dig Me"? Sorry, not anymore.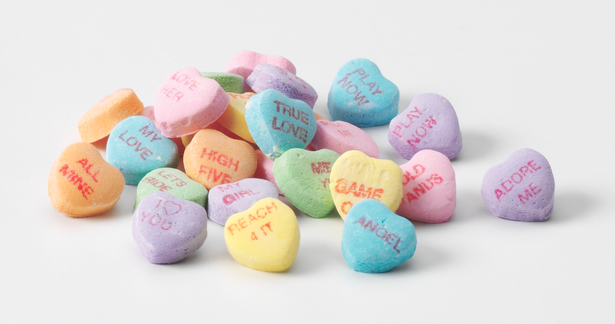 NECCO
The Sweetheart is 147 years old. But not all of its cute little sayings have enjoyed quite the same sesquicentennial longevity. The folks from NECCO, the confectionery company that sells 4 million pounds of their traditional heart-shaped candies in the 6 weeks before Valentine's Day, sent me the full list of their most notable retired sayings.

DIG ME
HOT CHA
SAUCY BOY
GIRL POWER
OH YOU KID
WHY NOT
GROOVY
COOL DUDE
MY, SUCH EYES
FAX ME
HEP CAT
TELL ME HOW
YOU ARE LATE
1-800 CUPID
[PEACE SYMBOL]
YEAH RIGHT
OH BOY
YOU ROCK
LET'S READ
YOU ARE GAY
This year's batch includes: UR HOT, TEXT ME, and LOML [that's: Love of My Life].
Amazingly, NECCO told me that they once toyed with a saying like PUCKER UP. But the industrial machine had a habit of printing Ps that looked a little to much like Fs. So, yeah. That was one Sweetheart that didn't make it to market.
Check back tomorrow for The Atlantic's blowout special feature on the business, economics, and technology of Valentine's Day ... including a look at the industrial technology behind each little Sweetheart candy.
>