Why Are Gas Prices So Bizarrely High Right Now?
No, cash-strapped motorist, it's not just you. Gas really is weirdly expensive right now. Despite the fact that we're in February, when the price at the pump is traditionally low, gasoline has marched up to past the $3.80-a-gallon mark on average nationwide, and is close to $4.00 on the west coast. AAA tells the Washington Post 'that this "is the most expensive we've seen gasoline in the dead of winter."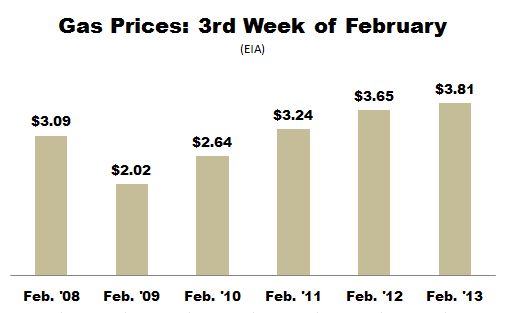 So what gives? Nobody's really sure, but it probably comes down to: China's looking good, the Middle East is looking bad, and too many U.S. refineries have shut down for the season.

First, oil prices are still high. Brent crude, which is used as the international benchmark, has been on a steady climb and is hovering at $117-a-barrel. As always, analysts are offering a whole host of possible reasons why, including the rumblings of good economic news in the U.S. and China, which means more demand for crude, and the crisis in the Middle East. (Which crisis, you might ask? Iran's showdown with the west, the chaos in Syria -- take your pick, they all make oil traders nervous.)
But I'm not convinced the cost of oil covers it. Looking back on crude prices this time over the past several years, as well as futures contracts pre-February, I couldn't find much of a change that would explain the 20 cent price bump we're now looking at. Crude was actually trading a few dollars higher around this time in 2012. So I might wager on an explanation that the Post tags at the bottom of its piece. Enough refineries have shut down as of late that the remaining operations can jack up prices:
But some analysts also pointed to refinery issues. Several refineries have been shut down for routine maintenance, and in the eastern United States, several refineries simply went out of business in the past year.

"Atlantic Basin capacity closures have improved refining fundamentals," the nation's biggest refiner, Valero, said in a slide presentation at a Credit Suisse conference this month. It estimated that nearly 1 million barrels a day of refinery capacity has been closed on the East Coast or in the U.S. Virgin Islands in the past two years, which Valero said allowed it to increase profit margins.
So blame Valero, but also straightforward market competition. Oil refining (which is separate from drilling) is a hyper-competitive, low-margin business. Sometimes, refineries turn into outright money losers and have to close their doors. That lets the remaining refiners adjust prices up to a more sustainable level, from their perspective at least.
None of this makes spending almost $3,000 a year on gas any more pleasant. But hey, it's nice to at least have a sense of why your budget is getting eaten by gas.