Why Are Gas Prices Are Suddenly So High? Blame the Refineries
It's been an unusually expensive winter for drivers. Instead of dropping like normal during America's chilly travel lull, average gas prices have marched up to around $3.80-a-gallon. That's noticeably higher than at this time in any of the past five years, even though the price of oil isn't much different than it was, say, last February.
It's always hard to pin the price at the pump on any single variable, but in a short post today* the Energy Information Agency takes a stab at explaining the run up. Their theory: blame it on the refineries.
Refiners have kept gasoline production relatively low for the past twelve months, but a recent series of shutdowns everywhere from Philadelphia to Port Arthur, Texas, have made capacity particularly tight.* Some of these outages were just for standard annual maintenance planned well in advance. Others took the market by surprise. But in any case, they've driven up the cost of gas versus the cost of crude oil (a difference known as the "crack spread"). In sum: supply's down, which has meant higher profits for the refiners still churning out product, as well as higher prices for motorists.
For a visual guide, see the chart below. The price of oil (GREEN line) hasn't moved all that much since November, while gasoline prices (all other colors) have shot up.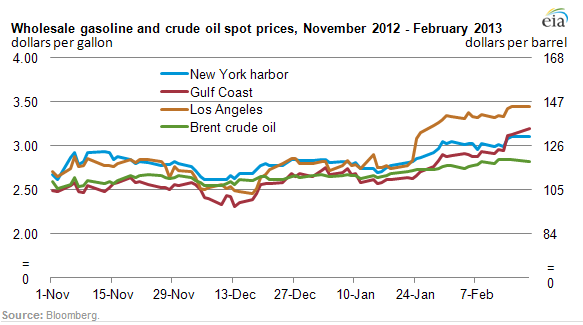 The good news is that, as refineries finish fixing themselves up and come back on line, supply will come up and prices will go down.

Then again, who knows. Maybe by then we'll be talking about another crisis in the Middle East driving up the price of oil.
______________________
*They describe all these shutdowns in a bit more detail in a longer version of the report from last week, which sadly came out a day after I guessed that refinery production was probably the bulk of the cause.