The Endangered Fate of Barnes & Noble
America's last major book store chain is shuttering locations as it tries to evolve for a digital future. Is this simply a tough transition, or the beginning of the end?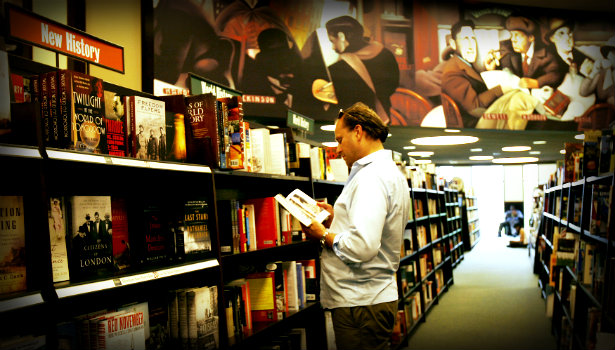 Reuters
Washington D.C.'s Union Station is a major point of entry for the nation's capital. Streams of daily commuters from the region, tourists, and business travelers on the Amtrak circuit from Boston and New York can choose from an especially ample array of shopping and dining opportunities. But, as of the end of February, one of the anchor retailers will be gone. Barnes & Noble is shutting down its bookstore in a main concourse after failing to reach terms with the landlord. Browsing the aisles at Barnes & Noble stores has been a core feature of the chain's strength in the forty years since Leonard Riggio purchased the assets of what was then a venerable seller mainly of textbooks and turned the enterprise into the country's most formidable shaper of a superstore culture for book selling.
It is hard to imagine a destination like Union Station without a fully stocked bookstore, even if it is also the case that an increasing percentage of the consumer traffic is carrying a mobile reading device that is loaded with books purchased elsewhere, mainly from Amazon. The sprawling Barnes & Noble on Georgetown's M Street is gone, and the company has closed superstores in New York, Dallas, Chicago, and Seattle (among other places) in similarly well-situated locales as part of a broader brick and mortar contraction that suggests--disturbingly--its long-term decline. Barnes & Noble's post-holiday report for 2012 reflected a drop in same-store sales of 3.1 percent, and despite a substantial push to expand its Nook line of e-readers, product sales for the devices were down 12.6 percent from a year ago.
In an interview with the Wall Street Journal, Mitchell Klipper, chief executive of Barnes & Noble's retail group, said that, over the next decade, the chain will reduce its outlets by about twenty a year to reach a figure of about 450-to-500 consumer stores, down from a peak of 726 in 2008. A separate chain of 674 college bookstores (which thrive on tchotchkes and their exclusive franchises) is not part of that calculation. Even with so many fewer consumer stores, Klipper said, "It's a good business model. You have to adjust your overhead and get smart with smart systems. Is it what it used to be when you were opening 80 stores a year and dropping stores everywhere? Probably not. It's different. But every business evolves." Klipper disputes the notion that bookstores will be unable to hold their own in the digital era, despite the chain's need to downsize where rents or locations are hurting the prospect of acceptable profitability. Only a handful of the stores--fewer than twenty--are actually losing money, he told the Wall Street Journal's Jeffrey Trachtenberg. But the company's revenues have been significantly impacted by its commitment to build the Nook franchise.
While holding on to ownership of nearly 80 percent of its Nook division, a $300 million investment in Nook from Microsoft last fall, followed by an $89.5 million commitment from Pearson, which sees value in the growing electronic textbook market, are signs that Barnes & Noble can forge a way to secure enough of the digital business to offset the problems it faces in traditional bookselling.
But the overall impression of Barnes & Noble's situation in the book industry is not nearly as positive as its owners and investors would like to portray. Publisher's Weekly reported last week that Barnes & Noble is in the midst of contentious negotiations over terms with Simon & Schuster. "Although the exact nature of the disagreement is not yet clear," Publisher's Weekly reported, "Barnes &Noble has significantly reduced its orders from S&S. The main reason for the cutback seems to be, according to sources, Barnes & Noble's lack of support from S&S." (One way or another, this means a dispute over the size of discounts and advertising.) Another factor for concern is the impending merger of Random House and Penguin, which is expected to give this corporate behemoth the ability to deal with Google's Android ecosystem, and Apple's consumer cachet as well as Amazon's dominant position in online retailing. There was an initial belief that Borders' bankruptcy would bring a substantial portion of its in-store business to Barnes & Noble, but that has not turned out to be the case.
"Barnes & Noble is the last bookstore chain standing," Wharton management professor Steve Kobrin, who is also the publisher of Wharton Digital Press, told the Knowledge@Wharton newsletter. "There's still a niche there, but it may go to small independent bookstores."
The same newsletter quotes Daniel Raff, a Wharton management professor, suggesting that the pessimism toward the bookseller may be overstated:
[He says that] Barnes &Noble was resourceful in devoting store space to the Nook and has assets that could be utilized. "When you talk ecosystems, it's not just the digital stuff. . . . The comfortable majority of publisher profits are physical books, and they need distribution." Indeed, Barnes & Noble's biggest asset may be the reality that publishers need shelf space to sell books." Ultimately, he and other observers have concluded that bundling print books with digital versions may be the next phase of bookselling and that would be a plus for Barnes & Noble.
I thought that Alexandra Petri, in a blog for the Washington Post, captured the prevailing spirit many of us feel about the fate of Barnes & Noble in an open letter to the company. "I think it is time we staged an intervention," she wrote, "I am saying this on behalf of all your friends: the Publishing Industry, Book-Lovers Everywhere and--well pretty much everyone but Amazon.com. We gathered this weekend and decided it was time we spoke up. We lost Borders. We cannot bear to lose you too."
There was a time barely a generation ago when Barnes & Noble seemed to be becoming too powerful, with its superstores and the since-shuttered Dalton mall chain dominating the industry. Now, as Petri writes, there is a sense that Barnes & Noble is in a struggle, and the fate of the brick and mortar stores are in the balance. "Just stop closing the bookstores," she appealed, "You have something special! Don't throw away your birthright in this frenzied dash after the thin pottage of the eBook market." In a way, it is a tribute to books that how they are sold--even when it is by a big, publicly traded chain--can arouse emotions. Those once choc-a-bloc bookshelves and lively aisles in Union Station and elsewhere will be genuinely missed.