A higher minimum wage and universal pre-K might sound like hackneyed progressive goals. But they're supported by broad economic research -- and common sense.

Reuters
Last night, President Obama laid out his vision "to reignite the true engine of America's economic growth - a rising, thriving middle class." At first blush, talking about a thriving middle class may seem like an old, hackneyed idea. We often hear politicians talk about how they believe that everyone who works hard and plays by the rules should be able to live the middle class dream.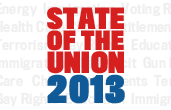 President Obama lays out his second-term vision for America.
See full coverage
But the argument that Obama made last night was not the traditional one. It was rather, an ambitious and strikingly brainy argument. It built on a growing body of economic evidence showing how a strong middle class and less income inequality aren't just nice-sounding goals, but also the keystone for long-term economic growth in a developed economy.
Obama's vision of how the economy works stands in stark opposition to Florida Sen. Mark Rubio, who argued that the opportunity to make it to the middle class comes from a free economy "where people can risk their own money to open a business," he said. "And when they succeed, they hire more people, who in turn invest or spend the money they make, helping others start a business and create jobs."