The Decade-Long Slowdown in U.S. Healthcare Spending (in a Graph)
There haven't been many happy stories to cut through the doom and gloom surrounding America's out-of-control, paycheck eating, budget-busting healthcare costs. But here's one of them, graphed by researchers at the Altarum Institute. Over the past decade, the growth of total U.S. medical spending has actually slowed by about half, falling from an annual rate of more than 8 percent in 2003 to 4 percent in 2012 (health spending growth in BLUE; overall economic growth in RED):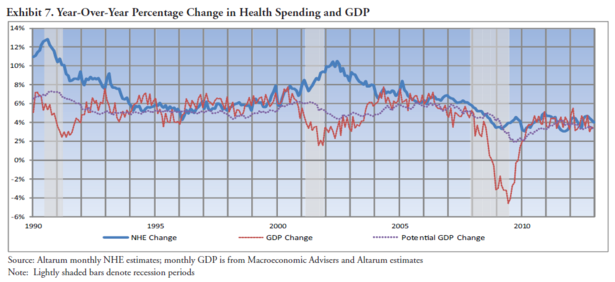 Does this mean we can stop worrying about the cost of Medicare 10 years or 20 years down the line? Sadly not. Remember, this is the tally of all private and public expenditures, and as more Americans age, their treatment needs will eventually swamp the federal budget. But -- as Annie Lowrey reported in the New York Times yesterday -- these numbers do suggest that doctors and insurers have at least begun to get a handle on expenses. While some of the slowdown can be credited to patients cutting back during the recession, the trend started before the economy fell apart and has lasted into the recovery.
But here's a red flag: The rate hasn't dropped much in the last few years. Instead, it's stayed roughly even, ranging between 3.5 percent and 5 percent a year since 2010.
So our out-of-control healthcare spending has gotten a bit less out of control. Think of it as a sign that our problems can be fixed, rather than one that they'll eventually fix themselves.