Surprise: Airline Ticket Prices Have Fallen 50% in the Last 30 Years
When US Airways and American Airlines announced their mega-merger last week, it was greeted with the sort of shrieking with which coach passengers are all too familiar. Flyers already hate the fees, delays, cramped quarters, and "meat specials" they're subjected to on America's legacy carriers. And make no mistake, more mergers might mean worse service, higher prices and equally "special" meat dinners. But look on the bright side: It has been an astonishingly good 30 years for American flyers.
Competition and price strategy has pushed down real airfare prices "by half since 1978 to about 4.16 cents per passenger per mile, before taxes," Eduardo Porter reported in his book The Price of Everything. And here's the graph for that: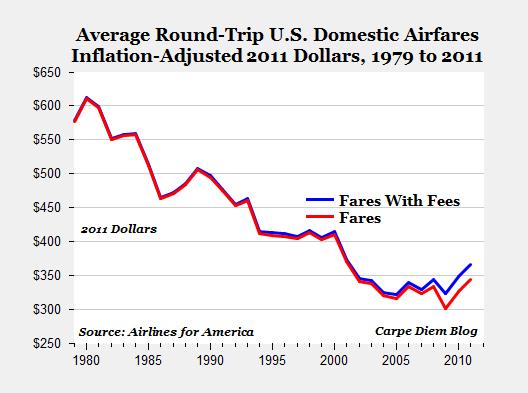 With average prices collapsing, especially with sites like Kayak making fares ultra-transparent in the 1990s and 2000s, airlines have had to stretch everywhere, Mark J. Perry reports. The industry lost an astounding $51 billion between 2001 and 2011, and it's only made a collective profit in half of the years since 1981.
So yes, mergers between enormous corporations in struggling industries often foretell less competition and higher prices. But the airline industry isn't a national transportation charity. It will eventually have to earn some money in exchange for flying us through the air around the world.

>