Marissa Mayer Is Wrong: Working From Home Can Make You More Productive
The statistical evidence on telecommuting suggests that (1) sometimes people just like to work from home for a change, and (2) they're actually quite good at it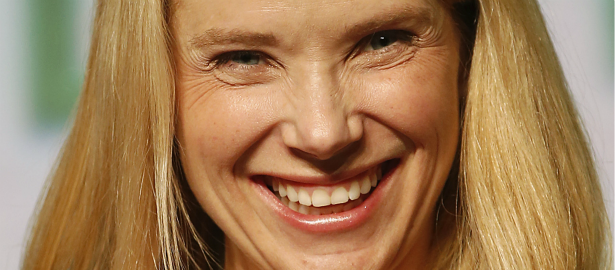 Reuters
Yahoo CEO Marissa Mayer has officially banned the company's employees from working from home. Here's the critical sentence: "To become the absolute best place to work, communication and collaboration will be important, so we need to be working side-by-side. That is why it is critical that we are all present in our offices." The full memo, originally published by All Things D, is reprinted in full at the bottom of this article.
Collaboration and communication are tricky to quantify (how do you know if your employees are talking more over Gchat/conversations in the office or from home?). But productivity isn't so hard to measure. It's work over time. And some studies have shown that working from home can make certain workers more productive.
The most commonly cited study in the field of home-work and productivity comes from Stanford. The results were clear: Telecommuting is nothing to be afraid of. Workers at a Chinese travel agency took fewer breaks and sick-days, answered more calls every minute, and reported improved work satisfaction when they worked from home. Later, the agency allowed the employees in the experiment to choose if they wanted to work from home, and productivity increased by 22%.
The U.S. economy is not best understood as one large Chinese travel agency, and one Stanford study does not make an indisputable case for telecommuting. Fortunately, it is not the only case. A Cisco study found that the company saved $277 million a year by allowing employees to telecommute. One fairly skeptical survey of telecommuting studies out of California State Polytechnic University said that it was difficult "to find published materials that indicate telecommuting does not generate productivity gains, or that gains are less than 10%." 

Not only is there practically no survey evidence to suggest that telecommuting reduces productivity, but also it would help companies specifically like Yahoo: media and technology firms based in major cities. Writing can be accomplished anywhere. Coding marathons are often best done in intense solitary. What's more, Yahoo has large offices in San Francisco and New York, which have two of the worst commute times in the United States. Working from homes adds hours to peoples' days that would otherwise be spent in rather less productive grindlock.

And yet ... telecommuting isn't taking over the world. The vast majority of "telecommutable" jobs aren't done at home. They're done in the office. Why?

One half of the answer is that people like working with other people. Telecommuting can be lonely and unfulfilling. But corporate policies like Mayer's are another part. Companies are jealous of their employees' time and allegiance, especially in competitive industries like media technology, and Mayer probably doesn't want to lead a massive hiring and turn-around effort while her deputies Skype in from their living rooms. It's understandable for executives to want to build an atmosphere where the office becomes a destination, a place where workers want to come together, where ideas percolate and bounce around an office and end up on a memo in the director's inbox that becomes a Hot New Thing.

But these reasonable arguments for building a dense and collaborative workplace culture should be weighed against the preponderance of statistical evidence, which suggests that (1) sometimes people just like to work from home for a change, and (2) they're really good at it. In reaching to build a new culture in a new Yahoo, Mayer might be alienating the most brilliantly independent-minded employees just because they value flexibility and Yahoo doesn't.

_______

YAHOO! PROPRIETARY AND CONFIDENTIAL INFORMATION -- DO NOT FORWARD

Yahoos,

Over the past few months, we have introduced a number of great benefits and tools to make us more productive, efficient and fun. With the introduction of initiatives like FYI, Goals and PB&J, we want everyone to participate in our culture and contribute to the positive momentum. From Sunnyvale to Santa Monica, Bangalore to Beijing -- I think we can all feel the energy and buzz in our offices.

To become the absolute best place to work, communication and collaboration will be important, so we need to be working side-by-side. That is why it is critical that we are all present in our offices. Some of the best decisions and insights come from hallway and cafeteria discussions, meeting new people, and impromptu team meetings. Speed and quality are often sacrificed when we work from home. We need to be one Yahoo!, and that starts with physically being together.

Beginning in June, we're asking all employees with work-from-home arrangements to work in Yahoo! offices. If this impacts you, your management has already been in touch with next steps. And, for the rest of us who occasionally have to stay home for the cable guy, please use your best judgment in the spirit of collaboration. Being a Yahoo isn't just about your day-to-day job, it is about the interactions and experiences that are only possible in our offices.

Thanks to all of you, we've already made remarkable progress as a company -- and the best is yet to come.

Jackie