Here's How America Is Spending $20 Billion This Valentine's Day
Valentine's Day is a time to spoil our beloveds, woo our secret lovers, and remember to call our mothers. It is also, to put things slightly less tenderly, a $20 billion macroeconomic stimulus aimed straight at the heart of the American chocolate-floral-lingerie industrial hydra.

Here's how America's receipt for Valentine's Day might look, if receipts looked like pie charts. (Data from IBISWorld; numbers in billions of dollars).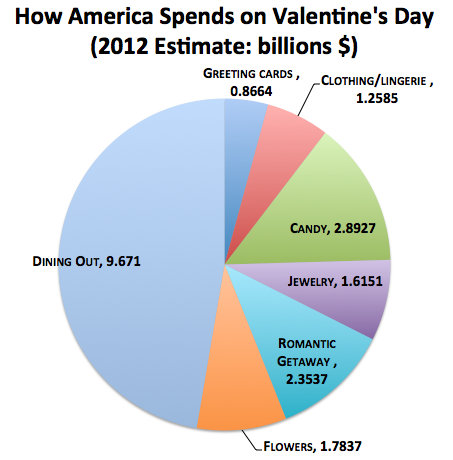 If Hallmark "invented" Valentine's Day, Hershey's won it. About two-thirds of the money spent for today is on food, and an astonishing amount of that food is straight up candy. In fact, we spend more on candy than flowers and cards combined.
Generally speaking, it's the lager categories that have grown the fastest in the last five years, since the economy was deep in recession. The slow growth in greeting card spending reflects competition from digital cards.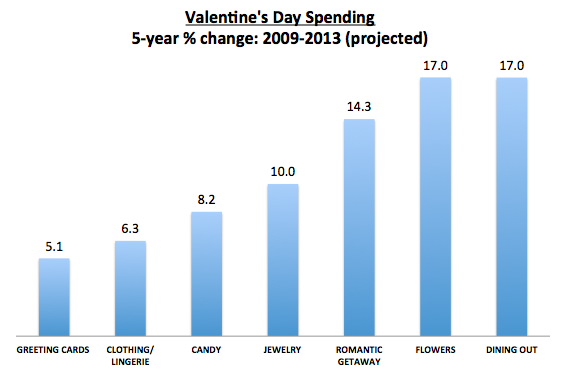 Exactly who is on the receiving end of that $20 billion?

Only about half of Valentine's spending goes to our romantic partners, exclusively. Family and friends will receive a little more than a quarter of today's gifts. Pets will receive a healthy 4% (or unhealthy, depending on your attitude toward animal presents). We'll spend about $722 million on our animals this Valentine's Day -- more than 80 percent as much as we'll spend on greeting cards. (This data from the National Retail Federation.)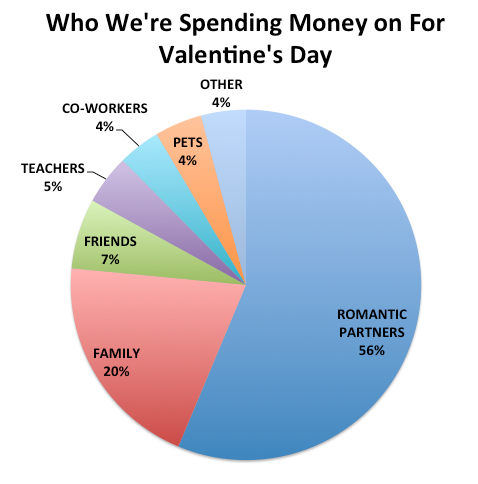 Young people really love their pets. The 30% of 18-24-year olds who wish their animals happy Valentine's Day spend, on average, more than $41 every year, according to NRF. As if one needed any more evidence that love makes you crazy.