A Case for College: The Unemployment Rate for Bachelor's-Degree Holders Is 3.7 Percent
I like to make this chart of unemployment rates by education attainment every few months. And it's been a few months, so: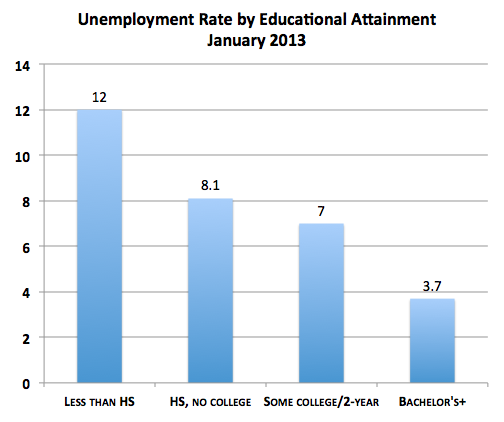 Here's what this graph does
not
say. It doesn't say that college is guaranteed to get you a job, especially right out of school. It also doesn't say that college drop-outs are destined to be unemployed. There are 150 million people working or trying to find work right now. That's a lot of data points, and, without context, one or several of those data points can help you make just about any argument you want to make about the worthlessness, or primacy, of higher education.
But here is what this graph really does tell us. People who don't go to college have an unemployment rate well above the national average. People who complete a four-year degree have an unemployment rate that's less than half of the national average. Those who graduate from college are more likely to have a job, more likely to earn a higher wage, and more likely to have the skills and experience that employers go to the labor market to buy.
Brilliant engineers and superstar artists and other assorted geniuses will be fine without a college degree precisely because they're brilliant superstar geniuses, and it's sort of insane to mount an argument against college based on the experience of 0.00-...-01% of the population.
Bachelor's degrees correlate with more, better-paid jobs, and three out of five workers today don't have one. It's hard to see why we should beg that number to fall.