What's the Most Valuable College Football Team? (It Ain't Alabama)
It's not Notre Dame, either. Or Michigan. Or USC.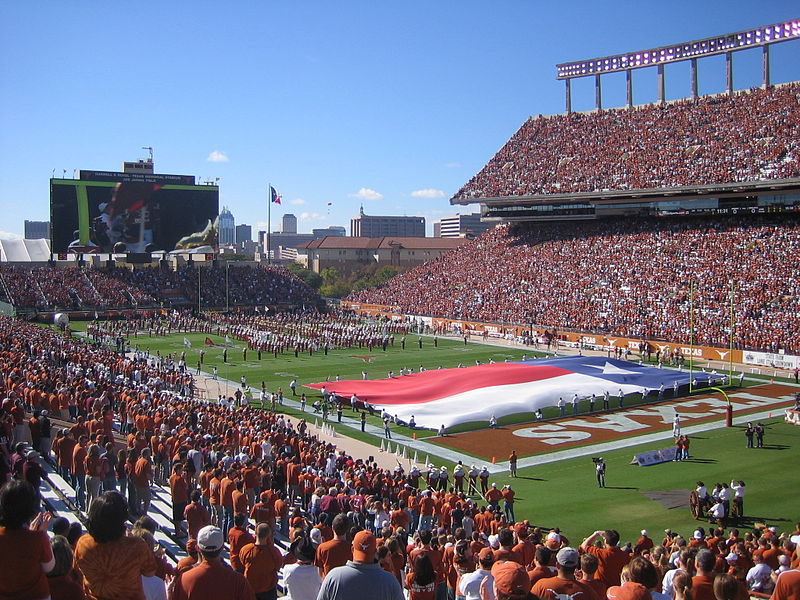 Alabama won college football's national championship last night, their third title in four years. But in a parallel competition for most valuable football program in college sports, Alabama is a distant eighth. The repeat champions in the money race? The Texas Longhorns.
That's according to Ryan Brewer, an assistant professor of finance at Indiana University-Purdue University Columbus, who has calculated the market value of more than 100 college football teams as if they were for-profit entities. He estimates that the University of Texas and the University of Michigan field teams whose values could rival even some NFL franchises. Here are the top 20 by his count: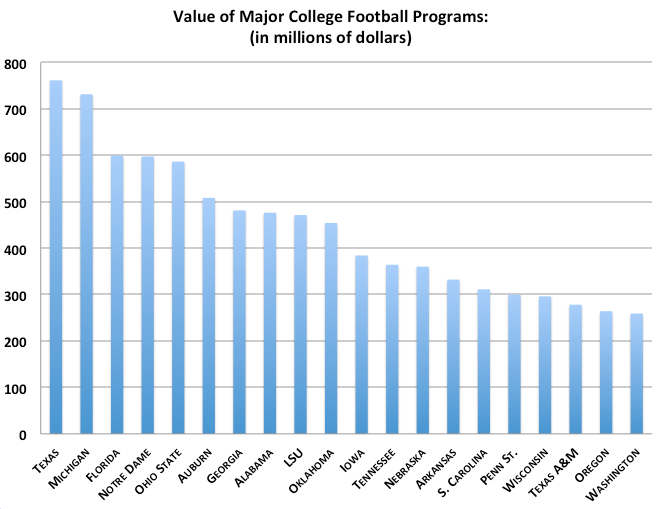 Brewer based his calculations on expenses, cash-flow, risk, and revenue from ticket sales, TV deals, and royalties.

What makes Texas and Michigan so much more valuable than other schools that would appear to have similar reach, like the University of Southern California, which comes in at number 28 in Brewer's analysis? "In the southeastern United States and in the breadbasket, we have a tremendous demand for U.S. football, especially where there isn't a professional analog, and the main sports story in town is college football," Brewer told me. "Texas brings in $123 million a year in revenue, and Michigan about $110 million from tickets, TV rights, sponsorships, and royalties." If you go back through the top 20 schools, you'll see that hardly any of those cities have NFL teams -- only a handful are within a short commute to a professional sports team.

In the new economics of college sports, income is determined not only by the size of your stadium but also by the size of your most recent TV contract. The controversial expansion of the Big Ten points to a future where mid-sized schools scramble to join conferences with sports networks that they can sell to cable providers.
What impact could this have on the "value" of college football teams? Brewer said it depends. If schools aren't careful, they might chase the short-term gain of a lucrative TV contract and lose their long-term fan support by joining a league that doesn't fulfill classic rivalries. "The entire league is at risk somewhat because of the unprecedented number of teams jockeying around," he said. "When schools west of the Mississippi River are competing in east coast conferences, it's bizarre and there's a threat to the loyalties of the fan base."
>