What Wal-Mart's Plan to Hire 100,000 Veterans Means For the Company and Economy: Nothing
In a move that could be described as both a masterful public relations stroke and a sincerely gracious decision, Wal-Mart has pledged that, starting Memorial Day, it will hire any military veteran who applies for a job within a year of their discharge. The nation's largest retailer expects to ultimately hire more than 100,000 vets within five years, mostly for jobs at its stores and distribution centers. In an interview with the New York Times, the head of Wal-Mart's military program added the caveat that company might only be able to hire some veterans part-time.
It's commendable that Wal-Mart is taking steps to help recent veterans, who, as the Times notes, have a higher unemployment rate than non-veterans. But we also shouldn't read too much into what this decision means about the company or the economy. Here are a few reasons why.
1) It's PR. Wal-Mart has been under the spotlight both for a bribery scandal in Mexico and for its labor practices here at home. The company is keenly aware that troubling headlines can drive customers away or throw a wrench into their expansion plans. So over the years, it's learned to counter bad press by taking on legitimately worthwhile causes in order to change the media narrative. Such was the case with its push for environmental sustainability in the past decade, which also just happened to wring costs from its supply chain. This time around, along with veteran hiring, the company says it will push to source more of its goods domestically. Again, we should all credit them for the effort. But that doesn't mean forgetting the black marks on their record.
2) It doesn't really say anything about the economy. Over at Slate, Matt Yglesias argues that if Walmart's hiring, it's probably not just out of the goodness of their hearts, and that it likely means they expect customer demand to pick up. I'm not so sure. Like any retailer, Wal-Mart loses lots of employees every year. The company claims to have an annual turnover rate of around 37 percent. With 1.4 million U.S. employees, that means it needs to hire more than 500,000 people every year at its stores (which, if you stop and try to process it, is kind of nuts). In that context, 100,000 veterans over five years really isn't that big a number. Moreover, the company says it already employs about 100,000 veterans, meaning they've probably found them to be reliable workers -- enough so that they're willing to hire them virtually no-questions-asked. Overall, the company isn't really making any big bets here.
3) These are still Wal-Mart jobs. I know this may sound like quibbling, but Wal-Mart -- just like pretty much all big-box retailers -- still pays most of its workforce pretty miserably. According to an IBISWorld analysis I've charted out below, the average sales associate makes around $8 an hour. If that's the best we can for our veterans, we're not really doing very much.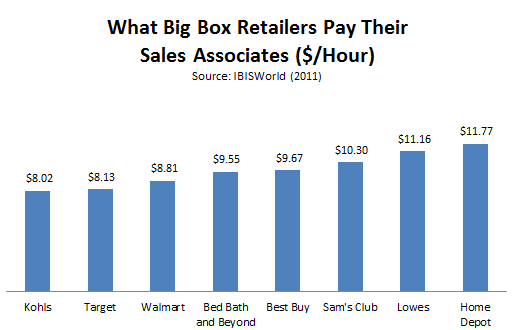 UPDATE - 1:26 PM:
Commenter Lasker points out another very important detail: Thanks to a tax credit for hiring veterans that was extended through 2013 as part of the fiscal cliff deal, Wal-Mart stands to save thousands of dollars per new employee by recruiting ex-military. Again, this isn't to disparage their decision. I only mean to point out that it's not entirely selfless.