These Charts Tell You Exactly How and Where Apple Makes Money Right Now
Uh oh: Apple's holiday sales missed analysts' projections; although, whether this sort of thing says more about the quality of the company or the quality of the projections, I can never be sure.

Taking the long view: Apple is a ginormous corporation that just set company records for revenue, earnings (barely, and that's the worry for some investors), iPhones sold, and iPads sold in a quarter. But as competitors nip at their heels in the phone and tablet race, Apple is making some analysts nervous that this historic market-maker is suddenly merely a market-share player.

To give you a better sense of the state of Apple, we've broken down their last quarter into four charts that explain how, where, and at what rate of growth Apple is making money.
First, here is how Apple's first-quarter revenue breaks down by product. Fully 60 percent of Apple revenue comes from iPhones and iPads ... neither of which existed just six years ago today.

Second, this is where Apple sales came from in the last three months. China now accounts for more than half of European sales and more than one-third of American sales. According to the company, 61 percent of total revenue comes from overseas. Some sales categorized as "retail" are based in the U.S.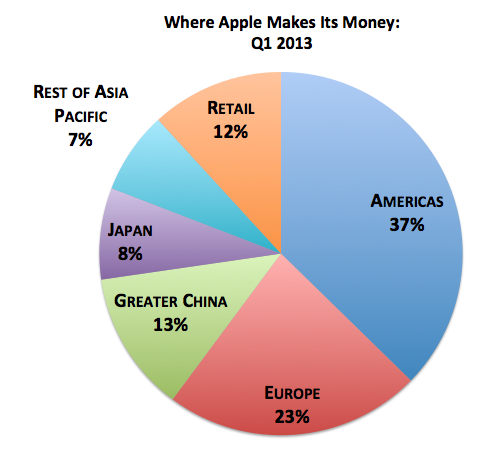 Now we're looking at year-over-year growth in Apple sales by product. iPhones and iPads both grew more than 20 percent around the world. Mac computer and iPod sales fell dramatically (no doubt, cannibalized by iPads and iPhones, respectively). The company explained that iMacs were not available for two out of three months of the quarter, which was one week shorter than the 2011 holiday quarter. On an adjusted quarter basis, iPhone units grew at 37% and iPads grew at 60%, Horace Dediu reported.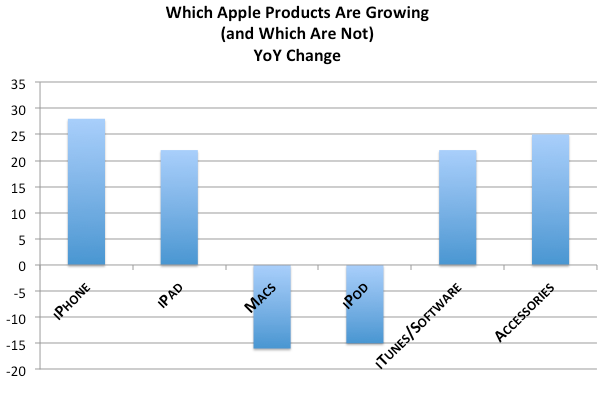 Finally, this is Apple's year-over-year growth around the world. iPhone sales doubled in China, pacing Apple's 67 percent revenue growth in that country.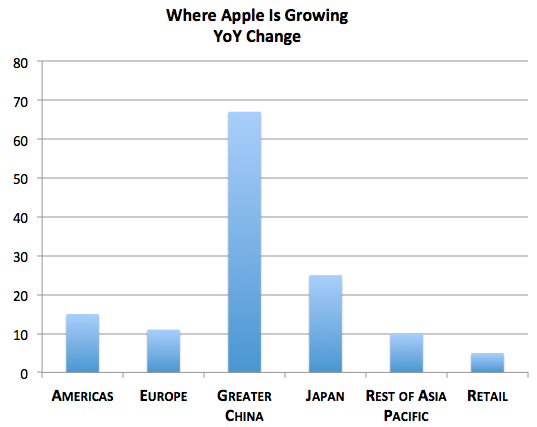 You could forgiven for wondering why the tech world is freaking out about the possibility of "peak Apple" this afternoon. Well, these graphs are revenue and it's Apple's higher costs that are eating into earnings. "With the cost of redesigning its products, Apple's gross margins, the percentage of sales remaining after deducting costs of production, was 38.6 percent in the first quarter, above the 36 percent the company had predicted in October," Bloomberg reported.
>