The U.S. Now Spends More on Immigration Than the Rest of Federal Law Enforcement Combined
So what would you guess is the main job of federal law enforcement in 2013? Breaking up drug rings? Patrolling white collar crime?
Try: coping with illegal immigration.
The Migration Policy Institute is out with a new report adding up what the United States has spent trying trying to seal off the border and ferret out undocumented individuals since 1986, when President Regan signed his landmark immigration reform bill. The big, headline-grabbing stat is that we now spend roughly $18 billion annually on immigration control, more than the rest of our major federal law enforcement agencies combined. Part of that is due to the immense increase in border patrol agents -- they've doubled in the last seven years -- who also play a key role intercepting drug shipments. Still, more than half of all federal prosecutions now involve immigration-related crimes -- no great surprise, given where we're putting our resources.
Here's what the comparison between our immigration spending and the rest of the federal law enforcement budget circa 1986.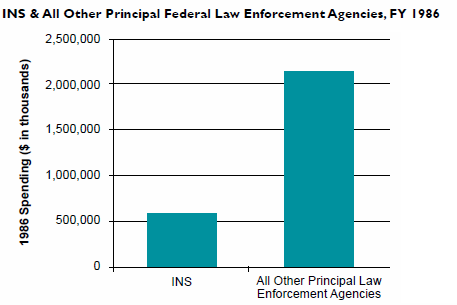 Now here it is today.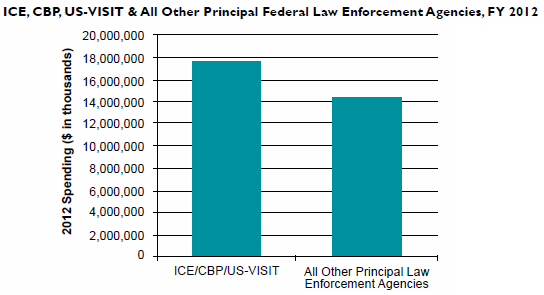 And finally, here's the growth of our immigration spending over time. In total, we've shelled out $219 billion in today's dollars in the last 27 years.