The Tribune Company Gets a New Lease On Life
As it emerges from a hellish bankruptcy, the next phase for the storied news publisher is bound to be better than the last.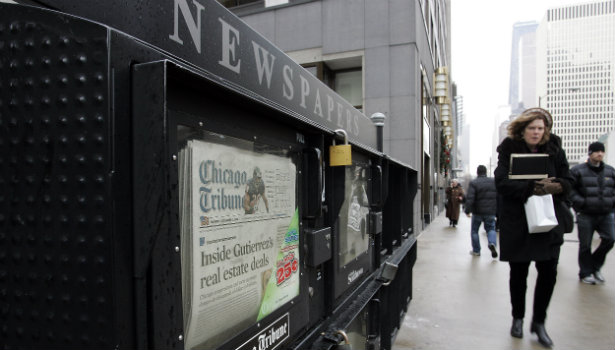 (Reuters)
Of all the miseries inflicted on the news business over the past decade, arguably the worst was the ravaging of the Tribune Company when real estate mogul Sam Zell took it private in a complex transaction in which he risked little of his own fortune while leading the businesses into $13 billion in debt. Jim O'Shea's book, The Deal from Hell: How Moguls and Wall Street Plundered Great American Newspapers (published by PublicAffairs in 2011), is a thorough account of the catastrophe, which Zell himself characterized as "hell's deal."
O'Shea, a former editor of the Los Angeles Times and managing editor of the Chicago Tribune, brought an investigative reporter's skills to the events as they evolved, combined with an undertone of indignation at how an enterprise of admirable assets could be driven into bankruptcy in barely more than a year after it was acquired in 2007. Now, following four years of rancor, downsizing, and management scandals, the Tribune Company has emerged from bankruptcy court with Zell and his cohorts finally gone. In the midst of it all, according to a detailed account of the case by Michael Oneal, a Chicago Tribune reporter, the bankruptcy judge, Kevin Carey, "looked out at a Delaware courtroom packed with high-priced attorneys and conceded the case had broken down into what he called a 'multiconstituent melee.'"
Oneal and Steve Mills, another Tribune reporter, covered the case in a four-part series last week called "Broken Deal" (there are excerpts outside the paywall), which was described as "riveting" by Michael Miner, the astute media critic of the Chicago Reader (a once independent weekly now owned by Wrapports, which also owns the Chicago Sun-Times). The activities of the investment funds and their lawyers--running up to $1,000 an hour--piled enormous expenses on the failed deal as it made it ways through the courts, leading Oneal to conclude: "For Tribune Co., its employees and many of its smaller creditors, bankruptcy became a debilitating period of missed opportunities and stalled strategy. The cost to Tribune Co. in legal and professional fees will likely run to more than $500 million." Moreover, the mess could still ensnare thousands of former Tribune shareholders, because they benefited from Zell's dubious buy-out, which went bust--as Zell and his bankers should have foreseen. Oneal and Mill's reporting confirmed that thirty-eight top Tribune Company managers received almost $150 million in payments from the initial deal, including various incentive and option packages.
The Tribune Company has unloaded Newsday to the Dolan family in New York and the beloved Chicago Cubs to the Ricketts family. What emerges is a company with strong new management, only $1.1 billion in debt, and a $300-million line of credit. The chairman is Bruce Karsh, president of Oaktree Capital Management, the private equity firm that ended up with 23 percent of the company, the largest single stake. The CEO is Peter Liguori, a former chief operating officer of cable television programmer Discovery Communications. Eddy Hartenstein, who was interim chief executive remains on the board and will be chief executive of the Los Angeles Times as well as an adviser to Liguori. In a letter to the staff, Liguori wrote that the Tribune Company still has "unparalleled media assets, iconic brands in major markets and very talented, creative employees." He said the company is an example of "what is best is in media, television, and journalism in America."
Aside from the eight daily newspapers, Tribune owns twenty-three televisions stations, a stake in the Food Network, and national cable network WGN America. Given Liguori's broadcast background and the relatively robust condition of cable television and related digital assets, the assumption is that the newspapers will be for sale, perhaps to Rupert Murdoch's new spin-off, News Corp., that has made clear its interest in the Los Angeles Times and perhaps the Chicago Tribune. The Wrapports group is another contender for the Chicago paper. It is composed of Chicago business leaders, who decided to take on the Sun-Times at a bargain price. The Tribune and Sun-Times are already closely related through printing and distribution agreements. I was surprised to read in Michael Miner's assessment of the "Broken Deal" series his decidedly positive view of how the Tribune has endured these years of drastic cutback and criticism.
According to Miner, Gerould Kern, the Tribune's editor, was assailed a year ago by Dean Baquet, now the managing editor of the New York Times, as "a guy who you know just kept giving the right answers to his bosses . . . and never learned how to really be a journalist--to my way of thinking." In addition, says Miner, the Tribune today is not simply a decent but actually "a very good newspaper I spend an hour and a half reading every morning. I've asked a couple of his newsroom's mainstays if it would be stupid to give Kern the credit for this. Go ahead and give it, they told me."
The odds still strongly favor the Tribune Company finding buyers for their newspapers and steering towards a digital and broadcast future. In an interview with the Los Angeles Times, Ligouri was asked whether the newspaper business could be rescued: "There isn't an overnight solution," he replied, "First and foremost, have best in class journalism, have it be applicable across all media platforms--mobile, digital, and good old-fashioned print. You've got to get paid for it. And now more than ever, you'd better be as efficient as possible."
Understandably, Ligouri is cautious in these initial weeks of outlining Tribune strategy, but it is still worth tapping into his thinking. The origins of the Tribune Company go back 175 years, and these were easily among its worst ever. Short of liquidation--which no longer seems likely--the next phase for Tribune is bound to be better than the last.