The Debt Ceiling Is Pointless and Dangerous and Practically All Economists Agree
The University of Chicago asked 38 economists whether they thought the debt ceiling was foolish and dangerous. Only one said no. Here's the official wording and the response breakdown.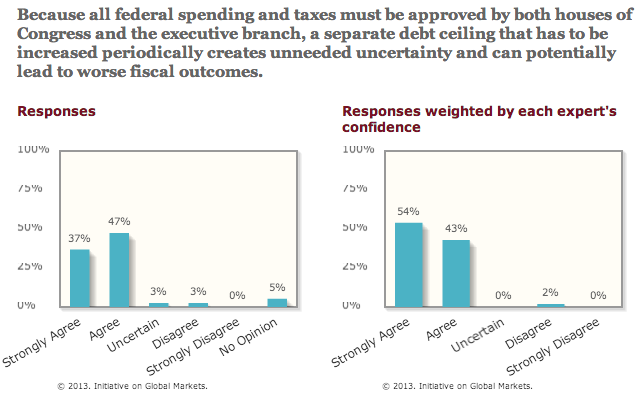 Some top-flight economists didn't hold back their criticism of the debt limit. MIT's David Autor remarked, "The question contains its own answer." Chicago's Anil Kashyap pithily summed up the absurd redundancy: "Deciding whether or not to pay the debts incurred to fund the previously approved tax and spending is nuts."
The award for Most Definitive Response goes to the often-definitive Richard Thaler: "The debt ceiling is a dumb idea with no benefits and potentially catestrophic [sic] costs if ever used."
Most Jaunty Response goes to Chicago's Austan Goolsbee, former chairman of the Council of Economic Advisers under Obama who replied with one mostly-caps-locked word: "OBVIOUSly."
The lone dissenter was Chicago's Luigi Zingales, who responded somewhat mischievously that the debt ceiling "can also lead to potential better outcomes," which sounds to me more like a probability-based quibble with the question's wording rather than an endorsement of the debt limit.
Nine out of ten economists can be wrong. But they probably aren't, this time. The debt ceiling is absurd. The only thing that need to be said about it has already been said by Jim Fallows: "For Congress to 'decide whether' to raise the debt ceiling, for programs and tax rates it has already voted into law, makes exactly as much sense as it would for a family to 'decide whether' to pay a credit-card bill for goods it has already bought."
[via Binyamin Appelbaum]