The 38 States That Have Slashed Higher Education Spending
The last few years haven't exactly been gentle to our public colleges and universities, or the students who attend them. Cash-poor state legislatures have gone to town on their higher education budgets, and as they've hacked away, tuition has risen along with the sums undergraduates have had to borrow. In total, 38 states cut post-secondary funding since the recession, many by more than a fifth.
So in that light, it sadly can be considered welcome news that just 16 states are planning to slash their spending any further in FY 2013, according to the Grapevine project at Illinois State University, which released its annual roundup of state-by-state higher-ed funding on Tuesday. The worst cuts this year are pending in Florida (8 percent), Alabama (6 percent) and New Jersey (5.5 percent). Another 16 legislatures increased their budgets by less than 2 percent, which will likely amount to a cut once inflation takes its bite. On the other hand, that means higher-ed will get a budget boost in 18 states. So let's say the glass is 1/3 full.
Even with these small improvements, though, the post-recession funding picture is still pretty grisly. First, the states that cut.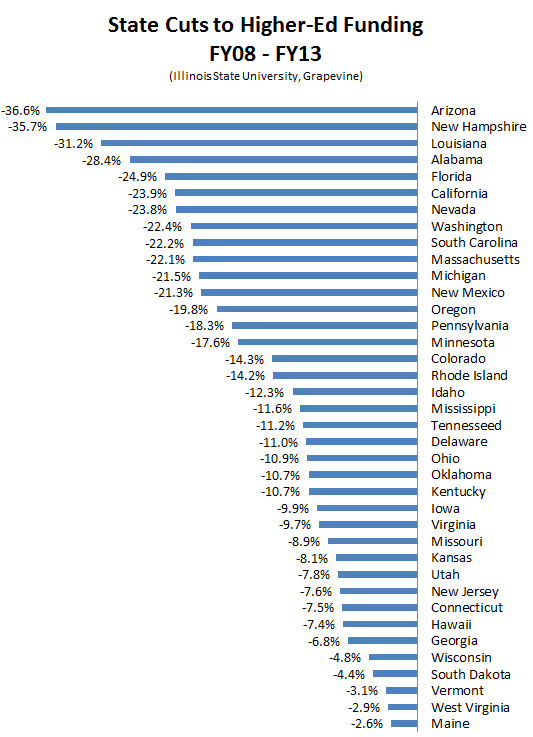 And now, the states that spent. (Don't be too impressed by Illinois -- these funding hikes are largely meant to cover unfunded pension liabilities).
Collectively, states are spending 10.8 percent less than they were five years ago, when the recession began. That's a deep wound that will take time to heal -- if it ever fully does.