Student Debt Isn't Rising As Fast As You Think
From a bird's-eye-view, America's student loan problem is a wildfire raging out of control. Since 2002, the country's total load of education debt has increased 500 percent to around $1 trillion. That growth, combined with rising delinquency rates and the occasional woeful tale of an undergraduate borrowing $120,000 to finance their education, has been a recipe for panic.
So today, let's try a different perspective, by looking at what average students are actually borrowing. At four-year public colleges, the total debt at graduation barely budged over most of the last decade. At non-profit private schools, its rate of growth slowed down. Even at for-profit schools, per-student debt didn't rise as fast as it did in the 1990s.
In short, chances are that student debt isn't growing as fast as you think.
To illustrate the trend, I've graphed the government's estimates of the average amount borrowed by bachelor's recipients who graduated in the 1992-93, 1999-2000, and 2007-2008 school years, bringing us up to date with the Department of Education's newest data (all amounts are in 2009 dollars). As you can see, there are really two separate narratives here. At public institutions, borrowing roared in the in 90s, then basically plateaued. At private schools, both for-profit and nonprofit, borrowing also roared in the 90s, then kept on rising at a steady, but thankfully less torrid, clip.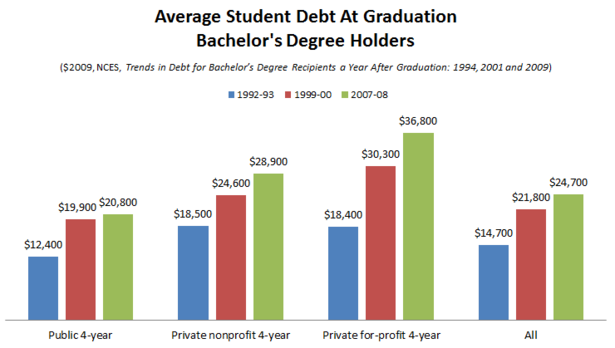 The good news is that state schools educate about 60 percent of bachelor's seekers. And so while the average loan balance for all new four-year college grads jumped by about half during the Clinton era, it edged up just 13 percent over the next eight years.
There's a similar pattern when it comes to the percentage of students borrowing -- a surge in the 90s, and a slowdown in the aughts. At least, that's how things unfolded at public and nonprofit colleges. In the ever-troublesome for-profit sector, a remarkable 90.2% of graduates were taking out loans by 2008, compared to 65.6 percent overall.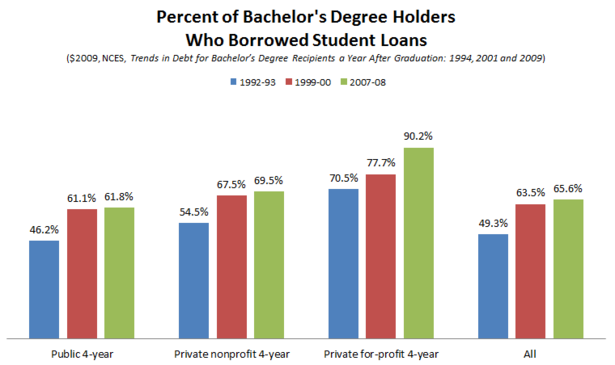 Of course, the government's data is now a few years old, and public university tuition has been on a post-recession rise as states have cut their funding. According to the College Board, which publishes proprietary survey data dating back to to the 1999-2000 school year, the average loan balance upon graduation for public 4-year college alums grew by about 12 percent between 2007-2008 and 2010-2011, and by about 16 percent dating back to 1999-2000.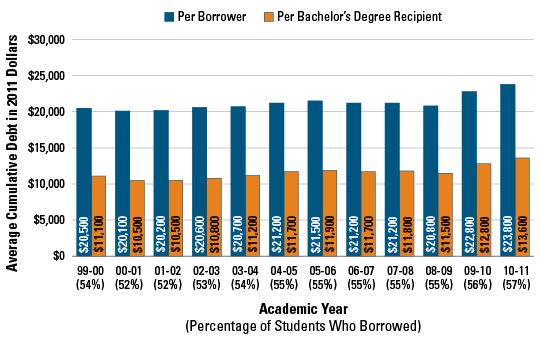 Those aren't small increases, but they're not devastating either. You also have to account for them in context. The average college graduate still earns about twice as much as Americans with only a high school diploma, which translates to hundreds of thousands of dollars of extra earnings over a lifetime -- a better return than stocks, bonds, or pretty much anywhere else a young person could put their money. Ultimately, the Department of Education finds that in 2009, the median bachelor's degree repaying their loans one year out of school was handing over 8 percent of their monthly salary, up from 6.8 percent in 1994.
This all doesn't change the fact that the real cost of college is rising as family incomes are stagnating. It also doesn't change the fact that our newly acquired student debt burden will probably weigh down the broader economy, as young adults spend less than past generations on things like cars and homes while they pay off their loans. The growth of for-profit schools, with their high-tuition and high default rates is a real concern. But we also shouldn't blow real policy problems out of proportion. And in many ways, that's what's happened with student debt.