Apple: The Slaying of a Tech Hero
Look closer at Apple and its numbers: Its obituary is being written by Wall Street and a myopic tech media -- not by its own customers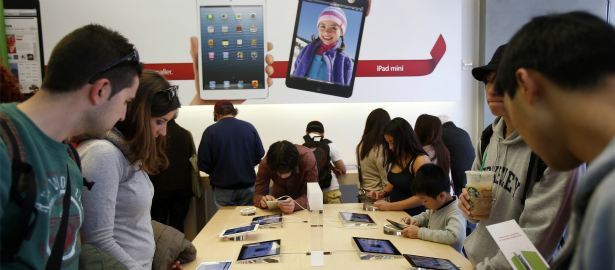 Reuters
Apple's quarterly results this week drew a flood of reactions - almost all negative. Given how well the company did under almost any absolute measure, this is odd, though, for Wall Street, not necessarily surprising.
But the arc of Apple's rise and temporary fall tells a more troubling story about our current inability to maintain positive momentum about any aspect of our culture. We slay our heroes with casual abandon. Then we wring our hands about the absence of positive catalysts in our world today.
Apple's stock, already in relative free fall from an all-time high of more than $700 a share, plunged nearly 12 percent on the news. The company has now lost 35 percent of its value in four months - which represents an astonishing $235 billion. This decline alone is larger than all but three companies in the S&P 500, and larger than the gross domestic product of more than 140 countries.
That equity collapse was echoed by deeply pessimistic analysis of the company in the financial and tech media. Jim Cramer of CNBC railed against the post-Steve Jobs management under chief executive officer Tim Cook for failing to communicate a compelling vision. Others were less kind, dismissing the company as having no pipeline, no vision and little growth. "I think this is a broken company," said noted investor Jeffrey Gundlach.
Apple matters on multiple levels: it is still (barely) the world's largest company by market cap; it has been cited as a beacon of American innovation, led by a rare visionary, Steve Jobs, who resurrected the company he'd founded in the decade before his death; its products have been more than just hardware devices - consumers view them as a talisman, defining identities and allowing people to manifest their personal and professional lives as they chose. In the past few years, its stock price has been a proxy for that enthusiasm.
So what happened? What's most stunning about Apple's stunning and sudden fall is that it is unfolding in the context of still stunning actual results. Not only has the company not ceased growing, it is expanding at an astonishing clip. Its revenue in the fourth quarter of 2012 was $54.5 billion compared to $46.33 billion a year ago - which is a rise of 18 percent. Eighteen percent in a world economy that is barely growing 3 percent. It sold 47 million iPhones in the quarter compared to 37 million a year ago, and 23 million iPads compared to 15 million a year ago.
Yes, Apple earnings were flat, and stock market mavens point ominously to declining margins and shrinking earnings as telltale signs of trouble. But that isn't a sign of shrinking market share - which has been nearly fatal for former leaders such as Blackberry and Nokia. No, Apple increased its global share of smartphone sales in a market that is hardly robust - as Samsung, Apple's main competitor revealed as well. And issues of tight margins and spending more money to produce and market the same products are hardly Apple-specific and often given a pass by investors for companies such as Amazon or LinkedIn.
Still, Apple is not just another story of the bizarre way that Wall Street can value a company. It is that, but it's more as well. It seems like only yesterday that Apple was being hailed as the great company of our age, with its dying founder lionized in a best-selling biography as a genius not just of our time but of any time. It seems like only yesterday because it basically was only yesterday.
And before its recent image travails, Apple's sharp ascent was equally stunning - written off as dead by the late 1990s, it emerged as the tech innovator par excellence by the mid-2000s, invested with every virtue. Now, it is regarded as a has-been, hocking commoditized phones that any Chinese manufacturer can produce and tablets that every company in the world seems to be making, led by a CEO whose expertise is rationalizing the supply-chain. Hardly the stuff of dreams.
It's fair to say that Apple was never as transformative a social and technological force as myth would have it. And the slaying of heroes is hardly unique to our era. But the speed of lionizing and then annihilating is enough to take your breath away. It's the cultural equivalent of creative destruction. But unlike the economic version, it's hard to see where the creative element creeps in.
It is true that Apple functions in a ruthlessly competitive industry that is both fickle and short-term. Phones and tablets are ever-more essential but command about the same consumer loyalty as fashion: Cool one day, tired the next - even if you are a juggernaut like Apple.
Perhaps the market and the media are simply accelerating an inevitable process. You only get to be on top for a while, before the buzz and the business move elsewhere. In that sense, Apple is just an oversized corporate ingénue, with its brief moment fading and someone else soon to take its place, before the cycle begins again.
But the cultural message embedded in tearing Apple down is more pernicious than doing the same to a fading starlet. Beneath the furor, Apple continues to do its business exceedingly well and continues to give people what they need and want. For now, it is largely media and Wall Street that are writing Apple's obituary - not customers.
The message may prove to be correct, or it may not, but the complete lack of perspective about how hard it is to create something of worth compared to how easy it is to tear something down does not send a constructive signal or engender the better angels of our nature.
Apple was always likely to decline from its heights. But not because it failed, simply because others succeeded. In the story of Apple, and how we tell it, we have a metaphor for the story of the United States in recent years: a tendency to see the end, and then hasten it. Apple's success was an example of what the United States can do brilliantly. The recent reaction to it shows that we can also excel at self-immolation.
Better to nurture the former instincts. The other will lead nowhere, and fast.
"The Edgy Optimist" column is initially published at Reuters.com, an Atlantic partner site