1.8 Million New Jobs in 2012: Where Did They Come From?
If nothing else, the U.S. job market has become remarkably consistent.
In 2011, the country added a modest 1.84 million jobs, largely in professional and business services, health care, the food industry, manufacturing, and retail.
In 2012, it added--drum roll please--1.84 million new jobs, largely in professional and business services, health care, the food industry, manufacturing, and retail. Those figures might change slightly as the BLS adjusts its November and newly released December reports in the coming months, but the fact remains that our job market now has locked into a slow rhythm, producing roughly the same number of jobs in roughly the same sectors of the economy two years running. And it's not nearly enough to heal the damage done by the recession.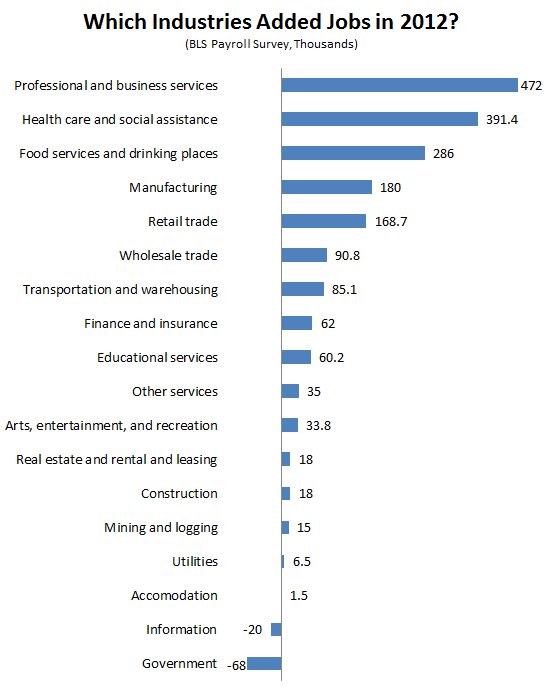 Aside from the semi-recovery of manufacturing, which still isn't anywhere close to recouping the jobs it shed during the downturn, the economy is still generating work mostly at the high and low end of the pay spectrum, without a ton of opportunities in the middle. Much of the growth in business services, for instance, came from temp workers, followed by professionals in IT, management consulting, and architecture and engineering.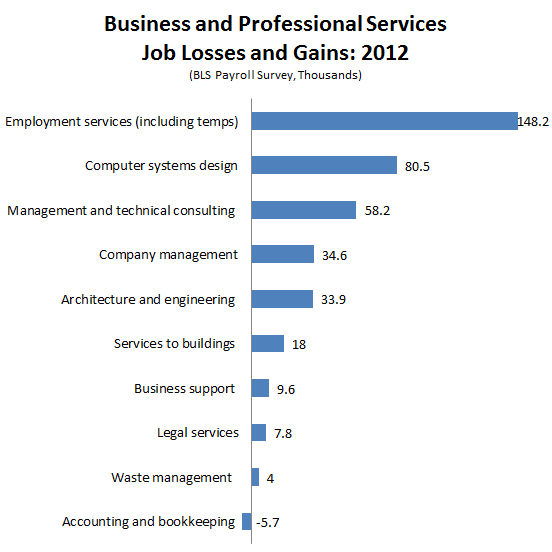 Other than maybe food services and professional services, no single industry grew at a particularly rapid pace. That's a marked turnaround from last year, when the mining and logging led the pack with 12 percent job growth, thanks to the boom in oil and gas exploration. From an employment perspective, the oil rush appears seems to have reached an impasse.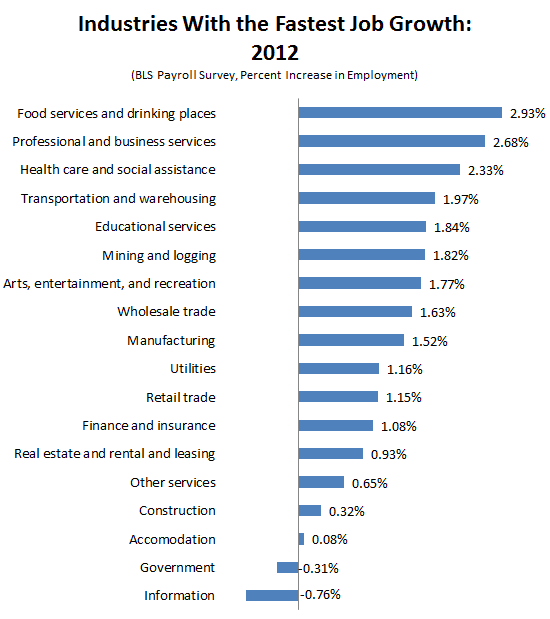 Wherever the jobs were available, and whatever they paid, it was clearly easiest to get one if you had an education. Yet again, college graduates gained the lion's share of new jobs, while Americans with a high school degree or less continued falling behind.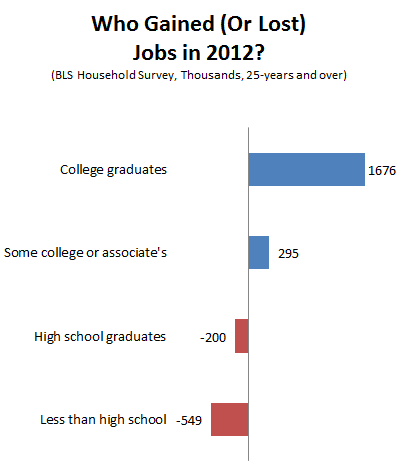 Beneath the overarching sameness, though was one significant difference: This year belonged to women. By Jan. 1, 2012, there were actually fewer females over the age of 20 working than there had been 12 months before, according to the BLS's household survey data. About 63 percent of net employment gains went to women.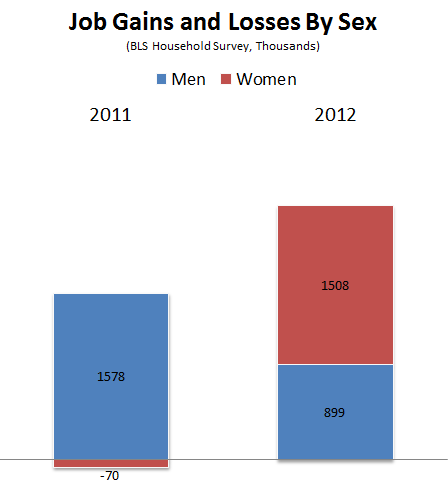 All in all, another frustratingly mediocre year. But at least the job gains were spread a bit more evenly between the sexes. We'll take progress where we can get it.