What Will Jeff Zucker Do With CNN?
Expect him to devise an around-the-clock equivalent of the Today show, with substantial segments of soft "news you can use" and entertainment blended with the news of the day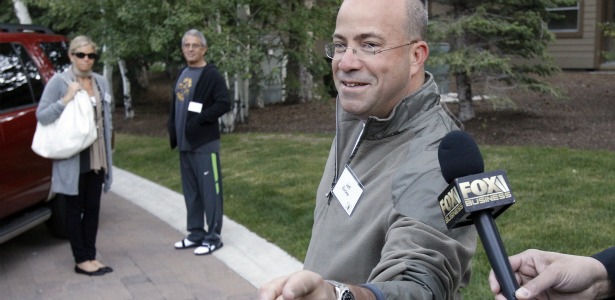 Reuters
The naming of Jeff Zucker as president of CNN Worldwide last month placed a bona fide television polymath at the helm of this iconic American cable news enterprise. Zucker, who is 47, had successes in news at NBC (Today and the NBC Nightly News) and subsequent setbacks in entertainment, as the NBC network dropped to fourth place in prime-time.
Now, he will lead a sprawling array of "23 branded news and information businesses that includes CNN/U.S., CNN International, CNN.Com and HLN that reaches more than two billion people in some 200 countries," according to the official announcement.

With so much all-day programming to provide for so many constituencies, it's a massive challenge to say what CNN is truly meant to be. The conundrum for the flagship CNN/U.S. is whether to move decisively in the direction of the BBC's world-wide news channel, with an emphasis on authoritative (as opposed to opinionated) news and upmarket features. Or is it better to go with newsbreaks in a cluster of infotainment shows, such as the already planned programs with celebrity chef Anthony Bourdain and Morgan Spurlock, who made the movie Supersize Me about eating at McDonald's?
When I watched CNN abroad recently, the news coverage was impressive, with Christiane Amanpour, Anderson Cooper, and others on the Israeli/Gaza conflagration, and quality commentary from Fareed Zakaria. CNN International deserves the respect it has achieved over the decades. But on the home front, the highly visible evening line-up, which has been subject to constant tinkering, has limited impact, except when there is very big news that takes advantage of CNN's on-the-ground expertise. For example, my friend, Ben W. Heineman Jr., was right when he wrote in praise of CNN's fact-filled election night coverage.
What was striking about the hoopla around the Zucker appointment was the paradox in CNN's current circumstances. Headlines and stories said CNN is "struggling" and in a "ratings tailspin." But it was also reported that CNN Worldwide is on its way to its most profitable year ever, with over $600 million in profits from revenue streams in advertising and subscription fees from cable systems and affiliated stations. Can this complex of disparate but inter-related companies with the CNN name, vying with so many other outlets and still making huge profits, really be in such trouble?
The answer appears to be that the management of Time-Warner, CNN's parent, led by CEO Jeffrey L. Bewkes, believes, as he put it bluntly, that CNN "can do a better job of attracting and retaining viewers." For all its rising revenues, CNN in the United States has about one third of the average 1.2 million viewers of Fox News, which also has soaring profits -- over $860 million in 2011, according to the Pew Research Center. It is one of News Corp.'s gems, and its head, Roger Ailes, is nonpareil as a producer of right-wing television. On the left, MSNBC also has a bigger average audience (about 500,000) than CNN/U.S., while its revenues benefit from its place at the NBC/Universal conglomerate alongside CNBC and NBC News (where the wildly lucrative Today show has lately fallen behind ABC's Good Morning America in head-to-head ratings).
Among the ironies of CNN's position is that it has the capacity and resources in its leading news personalities, correspondents, and top producers to be a really formidable news organization. But nonpartisan, nonstop news -- newsmaker interviews and analysis of the traditional kind that was the vision of Ted Turner and his executive team when Cable News Network was founded in 1980 -- is no longer drawing sufficient viewership to the CNN/US channel, while right-wing and left-wing talk is booming. At risk for Time/Warner are those enormous profits if the cable systems and others who pay to play on CNN decide it isn't worth the prices they have been paying.
In his first memo to the CNN staff, Zucker said that he is "committed to maintaining CNN's core mission." In fact, he said "CNN's values are more distinct and more important than ever in today's media landscape. At the same time, we will have to continue to evolve. I don't have all the answers. No one does." Yet, he declares, "the opportunities are limitless."
So, what are the options? If the goal -- to bolster the businesses -- turns out to be mainly about those elusive prime-time ratings, then the likely outcome is that Zucker will be drawn to programming that he knows best. He will devise an around-the-clock equivalent of the Today show, with substantial segments of soft "news you can use" and entertainment blended in certain time periods with the news of the day. At NBC, Zucker showed that he knew how to consistently pick popular television personas. Brian Williams, Matt Lauer, and Katie Couric (whose new daytime show -- apparently off to a good start -- he produced until CNN came along) all thrived under his stewardship. The ability to support talent is an invaluable asset for ratings.
Adapting that skill, as I hope he will, to a setting where solid breaking news, enterprise and investigative reporting, and documentaries are the signature output is going to be the real test for Zucker. Can he and his colleagues conjure compelling, crowd-pleasing quality journalism that sets it apart from its competitors? In bringing Jeff Zucker aboard, Time-Warner chose a celebrated figure from network television who says that "outside of my family and the Miami Dolphins, there is nothing I am as passionate about as journalism." In the months to come, we'll be able to measure how Zucker puts that passion into practice.