The Scariest Thing About the Newspaper Business Isn't Print's Decline, It's Digital's Growth
Newspaper print ad sales have declined more than $20 billion in six years. In that time, digital ads growth has erased only 2% of the losses.
Emma Gardner of the Economist Group presents a visual look back at digital publishing in 2012. No visual struck me more than the graph below showing the extent of devastation to newspaper print ad sales since 2006: $20 billion in annual revenue, down the drain. In that time, digital ad growth has erased only 2% of the losses. How dreadful. [Quarterly figures below.]

Where did the digital money go? It went to new online marketplaces, and apps, and sites. And Google. Yeah, basically the money went to Google. In 2006, Google made $60 billion less than U.S. newspapers and magazines. Now it makes more ad money than all of U.S. print media combined. Wow.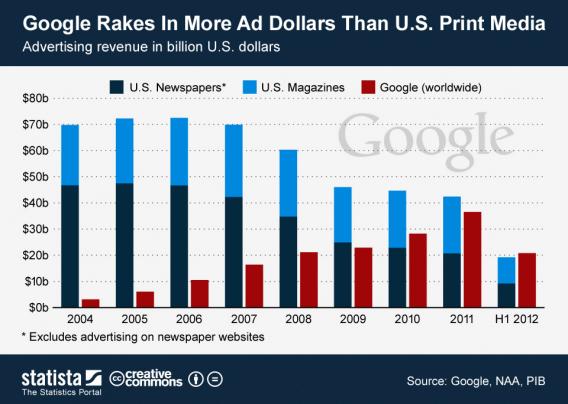 The scariest thing to comprehend here isn't that print is dead. Print newspapers aren't dead. They make $20 billion a year off ads. The issue isn't readership, either. More people pay for the Wall Street Journal and New York Times today than they did ten years ago, if you count digital subscriptions. That's not dead, and it's not the scariest thing about the newspaper business.

Look at that first chart again.

The scariest thing about the newspaper business is the idea that digital newspaper advertising is theoretically "alive" and "the future" even though it's growing at 1/50th the pace of print's decline. In the last five years, we've basically figured out one big thing about digital advertising -- the power of search -- while banner ads, native ads, and sponsored ads, and other non-search-advertising innovations haven't been rich enough to pay for anything except the most shoe-string of journalism budgets. Basically, the digital ad business for newspapers stinks. And if it continues its pathetic rate of growth, four things will happen.

First, many papers will erect pay-walls to beg for online subscribers. Second, many newspapers will discover their content is not distinguishing enough to justify digital subscribers and the pay-walls will flop. Third, many newspapers will continue to face newsroom and frequency cuts (e.g. going to three days a week). Fourth, many newspapers will die. They won't die because Google attacked and killed them. They'll die because newspapers have always been an indirect cross-subsidy of soft-news advertising paying for hard-news journalism. Online search simply offers a more direct way to advertisers to reach those soft-news readers.