The Infrastructure Cliff: Why the U.S. Desperately Needs a $2.5 Trillion Upgrade
Highways and bridges will need trillions in upgrades if they are to survive for the next few decades. How can Washington budget it if the agenda is all cut, cut, cut?
Highways and bridges will need trillions in upgrades if they are to survive for the next few decades. How can Washington budget it if the agenda is all cut, cut, cut?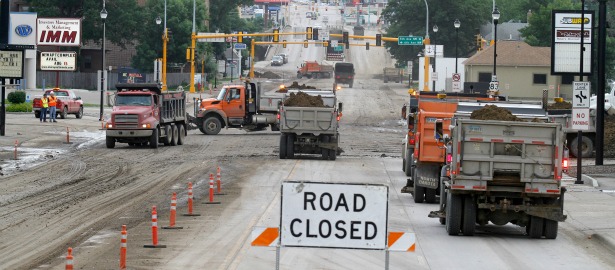 Reuters
When officials in Denver started drafting a strategic traffic plan a few years back, they concluded that the city no longer had the money to expand its roads to meet the surging demands. They would have to make do with what they had.
Denver's planners created a board game, Right of Way, that was scaled to the city's streets. It had cards that symbolized lanes for travel, parking, buses, bikes, mixed use, and medians. There were too many cards for the available space, so officials gathered community representatives to debate which sorts of lanes mattered most. To everyone's surprise, the group worked out an agreement, one that the city council pretty much ratified. "In the absence of additional benefits, it's all about trade-offs," said Gideon Berger, who headed the Denver project.
---
MORE FROM NATIONAL JOURNAL
---
Doomsayers' warnings that China will overtake the United States in economic strength because of its snazzier airports and trains are surely overblown. But we shouldn't minimize the task that our elderly infrastructure presents. Highways and bridges will need $2.5 trillion in upgrades if they are to survive for another 50 years -- a must-do to keep commerce thriving. And that figure doesn't even take into account the airports, railroads, subways, sewage-treatment plants, waterworks, levees, electric grids, pipelines, and all of those other expensive systems that people ignore until they break down.
So, who's gonna pay? Don't count on Washington, where cut, cut, cut is the order of the day. The 41,000-mile interstate highway system, which bound the nation into a single market with an investment of $130 billion, will cost twice that much in upkeep over the next five years. After two years of wrangling, Congress cobbled together only half a highway bill, authorizing just $104 billion -- less per year than a longer version and insufficient to cover modern improvements. The era of the massive federal public works project is over.
If Washington is broke, then what? State governments, which kick in one-tenth of the costs (to the feds' one-fourth) for roads, have also suffered from the sagging economy. The private sector could step in--and to a minor extent, already has -- but that requires an intimate but complicated cooperation between municipalities, investors, and federal overseers.
More and more, the burden is devolving onto the level of government closest to the potholes. Roads, railways, gas pipelines, water pipes, electric grids, and even Internet access will increasingly rely on individual communities' choices and resources. In Lower Manhattan or along the Brooklyn waterfront, it'll be up to New York City to protect against another disastrous hit to the city's economy like that wrought by superstorm Sandy. Absent federal money to build the levees, Mayor Michael Bloomberg will need to find the funding elsewhere. Fuhgettaboutit.
More likely, the story of infra-structure for the foreseeable future can be found in Denver. As metropolises become ever-bigger economic hubs, city planners will look for better options for moving people from place to place or risk losing critical investment from local businesses. No longer will officials talk only about adding infrastructure but will also broaden the discussion to include other options -- mass transit or bike lanes, say. The idea is to get people out of their cars, without resorting to the dictatorial, London-style option of charging drivers to enter the city -- which Bloomberg once proposed, to Bronx cheers.
Let's not forget another source of funds: user fees, more palatable than direct taxes. The Capitol Beltway in Northern Virginia recently introduced toll lanes -- privately funded, mostly -- that, for a guaranteed 45 mph speed, electronically charge drivers a levy that varies with traffic volume. If governments are strapped, who's the last patsy standing? You are.