Is Medical Inflation Curing Itself?
Some people project medical costs will devour the country whole. But the health care system is, in fact, becoming more efficient on its own.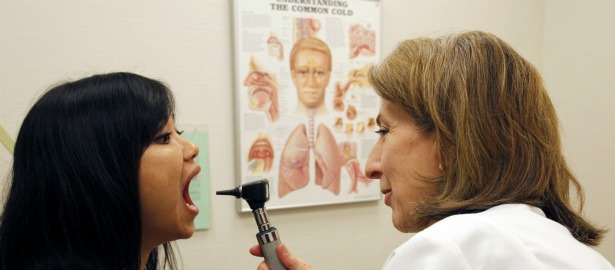 Reuters
The relentless rise in medical costs has been a disaster for more than the federal budget deficit and state government balance sheets: It's a leading cause of wage stagnation, too.
Private-insurance premiums have climbed steadily for decades. But in the past 10 years, as corporate budgets have tightened, health care has begun to crowd out other forms of employee compensation. Given growing premiums, increased out-of-pocket medical expenses, and higher taxes to support Medicaid and insurance for public-sector employees, private-sector employees' health care costs alone have nearly erased all income gains since 2002, according to a recent Rand analysis.
---
MORE FROM NATIONAL JOURNAL
---
The mounting health care costs also hurt the global competitiveness of American businesses. In most other Western countries, the government--not employers--shoulders the cost of health insurance. In the United States, health care has consumed an ever-larger share of employers' compensation to employees, driving up costs and making labor pricier than many businesses want to pay.
"We've been battling increasing health care costs for three decades now, and costs continue to increase faster than wages and faster than inflation," said Mike Thompson, a principal in the human-resources practice at PwC, the accounting giant. "It's putting pressure on companies not just to compete domestically but to compete globally."
The solution isn't obvious, especially because our piecemeal system of medical care relies on a mix of private and public insurers. Typically, when the government cuts payments for public programs such as Medicare--which could happen as part of a budget deal next year--hospitals and other providers raise premiums in the private market to recoup those costs. Policymakers don't exert much control over private-market spending.
Some evidence shows, however, that the health care system is, in fact, becoming more efficient. Cost growth has slowed during the past few years, and optimists say that doctors and hospitals have begun changing the way they practice medicine to reduce waste and unnecessary care. Maybe. It's clear that private insurers and Medicare are experimenting with new payment incentives to encourage this type of reorganization. It may take years before we know whether they are working.
Employers have reacted to rising costs by adopting insurance plans that shift more of the financial burden onto workers. Some 72 percent of American employees who get insurance at work now have plans that include a deductible, up from 52 percent in 2006, according to a survey from the human-resources firm Mercer. (The average deductible exceeds $1,000.) Many large employers have also launched wellness programs, hoping to keep their workers healthier and out of hospitals.
These efforts may be starting to succeed: The rise in medical costs has decelerated. After double-digit growth in the 1990s, annual premium increases dropped to 4 percent in 2012--albeit, still growing faster than the overall economy--and averaged about 6 percent over the past few years. There's some evidence that high-deductible plans, by shifting costs to individuals, reduce their health care spending. Research also shows, however, that making people shoulder more of the costs tempts them to skip necessary as well as unnecessary care.
Some employers have found an even blunter way to curb their costs: simply eliminate health insurance coverage. The penalties they'll face in 2014 if they don't change their minds will be cheaper than the cost of premiums. Paul Keckley, executive director at the  Deloitte Center for Health Solutions, said that employers facing a financial squeeze are "looking to the statehouses and Washington and saying, 'Fix this.' " But whether government will, or anyone else can, still looks questionable at best.