How Much Are 1 Billion YouTube Hits Worth? Only $870,000 (Just Ask Psy)
"Gangnam Style" is the most popular YouTube video of all-time. But its nearly 900 million views have made its artist, the K-pop sensation Psy, just $870,000, according to AV Club.

But don't cry for Psy. His single still managed to make more than $8 million in international downloads, endorsements, and commercials. This is the graph that tells you how a global dance sensation makes $8 million: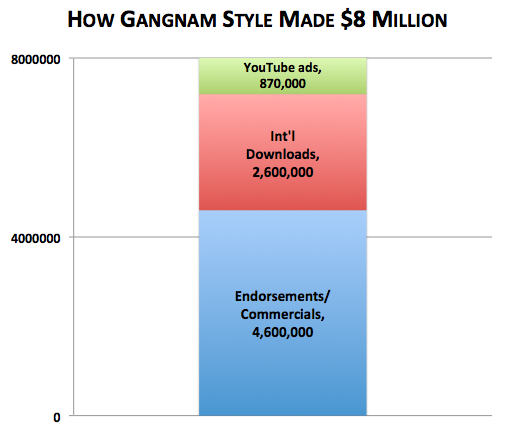 Clearly, the economics of superstars is alive and well in music. But just as it has for journalism, the Internet's effect on music has been to expand its reach far beyond its capacity to expand its revenue. The fact that a billion listens isn't even worth a million dollars tells two clear stories: Music has never been better for the people who listen to it -- and it's hardly been worse for the people who make it.