Higher Taxes for All: The Dems' Terrible Fallback Plan for the Fiscal Cliff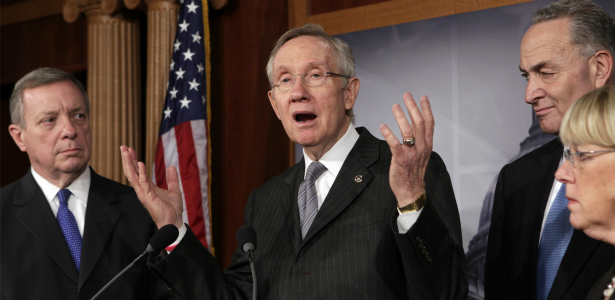 (Reuters)
So, the fiscal cliff. Barring a semi-miraculous breakthrough, it looks like it will be around until at least January. In other words, a deal is not close. That's left both sides scrambling for a backup plan, which could leave all of us scrambling for more cash in the new year. Indeed, as Greg Ip of The Economist points out, the fallback option Democrats are talking about now, a bill the Senate passed last summer, wouldn't undo nearly enough of the austerity set to kick in.
The Senate tax bill is just that -- a tax bill. It would extend the Bush tax cuts for a year for all but the top 2 percent of households, and limit the deductions they can take. It would bring the estate tax back to its 2001 level with a $1 million exemption and 55 percent rate. It would raise taxes on capital gains and dividends from 15 to 20 percent -- which is really 23.8 percent when you include the Obamacare surtax. And that's it. It wouldn't extend the payroll tax cut. It wouldn't extend unemployment insurance. It wouldn't undo the sequester. It wouldn't do the doc fix. It wouldn't start any new infrastructure projects. If you add up all of the things it doesn't do, it comes out to about
1.8 million fewer jobs
in 2013 than in a world without the fiscal cliff.
It also adds up to quite a bit less take-home pay for everybody. While the Senate bill ostensibly only raises taxes on the top 2 percent, the expiring payroll tax cut means that the middle-class would get hit hard too. The
charts
below
from the Tax Policy Center show just how hard the plan would hit each group of earners. If the expiring payroll tax doesn't get you, the expiring Bush tax cuts will.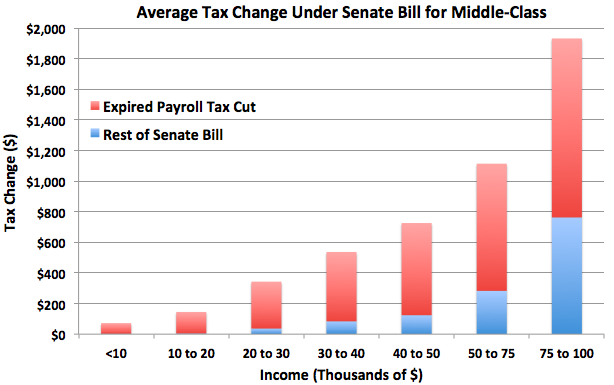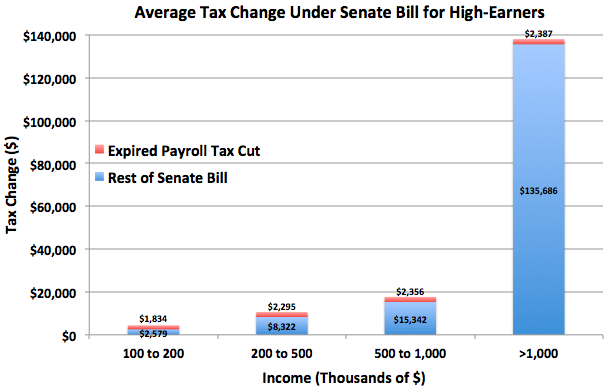 Even if President Obama and House Republicans finally agree to avoid the austerity from the sequester, the doc fix, and expiring unemployment insurance, as seems likely, this is still a poor rubric for a deal. Any bargain, grand or otherwise, that doesn't include a payroll tax cut -- or its equivalent, like
Making Work Pay
-- doesn't do enough to stop 2013 from being a year of too much austerity far too soon.
It's time for Plan D.