Finally, a Little Good News About Newspapers
They seem to be discovering the keys to survival in an online world.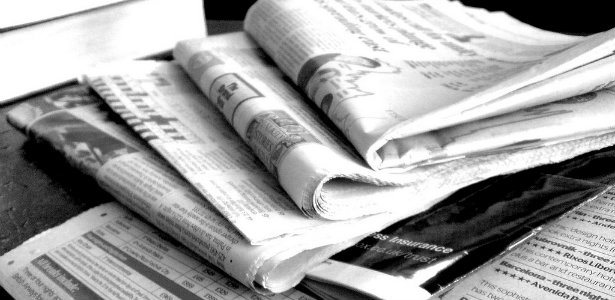 (Reuters)
As 2012 draws to a close, amidst the steady stream of dismal reports about the decline of newspapers, the Economist has a surprising takeout that is captioned: "After Years of Bad Headlines, the Industry Finally Has Some Good News." Delving eagerly into the piece, the (relatively) positive appraisal is that a gradual shift to digital subscriptions and the spread of fee-based tablet and mobile reading is finally starting to offset the continuing steep drop in print advertising and circulation.
The overall situation remains startlingly bad. Revenues of American newspapers, the Economist writes, dropped to $34 billion last year, "only about half of what they were in 2000." But there is enough activity in a lengthening list of companies to support the possibility that the transformation of newspapers to an online dominated economy is taking hold. Paywalls, based on a metering system tied to usage, are increasingly viewed as a necessity, if not a solution. The New York Times and hundreds of other newspapers (Philadelphia is the latest entry) announced or adopted paywalls in the past year or so. Significantly, the Washington Post, a leading holdout among the country's most important newspapers, is now said to be recognizing that charging for web access is inevitable.
"While details are being finished," the Wall Street Journal first disclosed, a paywall that "allows casual readers . . . a certain number of stories free before charging a subscription fee is likely to be rolled out in 2013 along with increases to the print newspaper's newsstand price."
In the long era of robust profits and peak readership, as recently as 2001, the daily paper still cost $0.25. Now, it is $1.00 ($2.00 on Sunday). The Washington Post (for which I have abiding goodwill and respect) has endured devastating cutbacks in every aspect of its business -- newsroom resources, circulation, and income -- while investing in an Internet presence that is extensive, ambitious, and free. If a paywall is introduced, it will certainly not provide enough money to reverse operating losses in the company's newspaper division that reached $56.3 million for the first nine months of this year. Martin Baron, the longtime editor of the Boston Globe, arrives in January as executive editor, replacing Marcus Brauchli, who served for four very difficult years and succeeded in integrating the once freestanding website staff with the newsroom. For all their admirable continuing commitment to quality news gathering, the Washington Post's family-controlled ownership has been unable to protect the newspaper from a precipitous slide.
Every newspaper in the country (and many counterparts in Western Europe) confronts the fact that print readership is heading inexorably downward. But there is still a yen among some senior moguls for acquiring newspapers with the intent of figuring out how to make the most of their digital potential and stature. The Tribune Company, emerging from bankruptcy after four years, is screening bankers to sell its papers, according to a Bloomberg story. By all accounts, Rupert Murdoch, among others, is a potential buyer. And Michael Bloomberg himself is said to be interested in the Financial Times. Warren Buffett's enthusiastic purchase, so far, of eighty newspapers is a measure of his view that local news, especially, is a viable asset.
The odds of a meaningful turnaround for newspapers remain very long. But a new Pew Research study did show a little headway, with 19 percent of mobile news users now paying for some form of digital subscription. Since all of us already pay monthly bills for our Internet access and mobile devices, it is just possible that over time we can be persuaded to pay for the digitally delivered content, as we have done for cable television and other services such as Netflix. And as print options for advertising are reduced, reaching those dedicated readers may lead to better rates. It has been barely a decade since the impact of the Web dragged down newspaper revenues and the ingenuity of engineering minds became integral to their survival.
But the best-led newsrooms are becoming more adept at making the most of the work of traditional wordsmiths. Raju Narisetti, now of the Wall Street Journal (previously at the Washington Post), who is considered one of the most creative minds at the intersection of news and technology, told a small group at the Carnegie Corporation of New York that the growing presentation of news as multimedia--words, audio, video, and data--is the essential element in the process of converting to this new era. He believes that, as journalists are trained to gather news knowing it will be distributed in a variety of formats, they are ever more likely to accommodate the requirements of their increasingly influential technology colleagues.
Narisetti is a realist. Newspapers capable of providing "amazing experiences" online will still have to combine them with business plans equal to their income. The most recent expert analysis on these issues comes from Columbia's Tow Center for Digital Journalism, entitled Post-Industrial Journalism: Adapting to the Present. Authored by Emily Bell, Tow's director, Clay Shirky, and C.W. Anderson it draws on these "core beliefs" that are, in their way, encouraging:
Journalism matters
Good journalism has always been subsidized
The Internet wrecks advertising subsidy
Restructuring is, therefore, a forced move
There are many opportunities for doing good work in new ways