Confirmed: Sandy Kept a Massive Number of People From Going to Work
Sandy may not have stopped companies from hiring in November, but it did wreak havoc with people's ability to get to their jobs. According to the Bureau of Labor Statistics, 369,000 Americans were employed but missed work due to bad weather last month, the record for November dating back to 1976, when it began tracking the figure.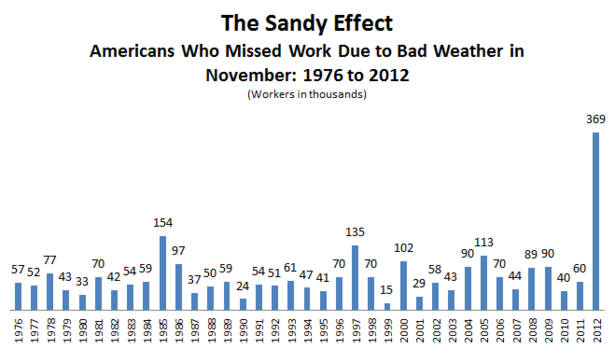 An economic catastrophe? Not quite. As far as the record for all months goes, the distinction belongs to January 1996, when a giant blizzard paralyzed New York City and nearby states. That kept 1,846 people off the job. And in general, freak weather events tend to have a pretty negligible impact on economic growth, thanks to the rebuilding efforts that follow all the damage and disruption caused by the storm. Still, it's another data-point showing how Sandy brought part of the country to a halt.