A Simple Graph Showing the American Manufacturing Worker Is Suddenly an Incredible Bargain
This month's Atlantic magazine predicts that we are on the verge of a U.S.-based manufacturing renaissance, as companies see the advantages to making more goods at home, such as more control over the final product, lower energy costs from moving goods across an ocean, and a falling "wage gap."

Simply put, U.S. factory workers are a much better deal than they were just ten years ago.

Here is a T. Rowe Price graph of unit labor costs -- basically, that's a measure of how productive our manufacturing workers are -- which shows that U.S. has spent the last ten years gaining on some of our key trading partners. (When these lines are going down, that means U.S. factory workers are getting cheaper relative to the competition...)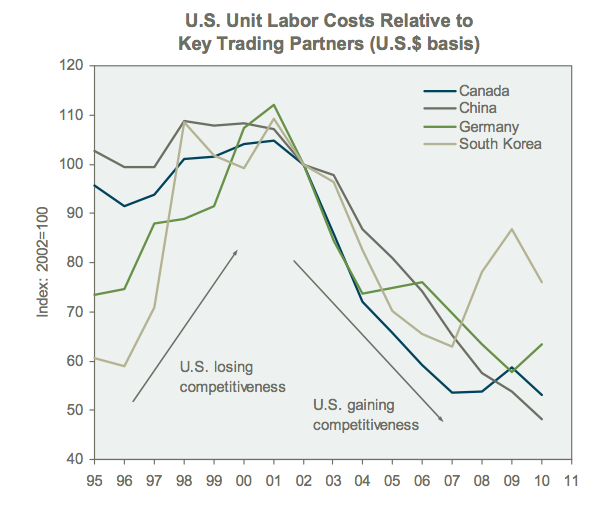 ... so that's exactly what's happened. Chinese workers used to be a huge discount for American companies. But they've lost half of that productivity discount to the U.S. in a decade. Canada and Germany have lost about 40% of their advantage.

As Alan Tonelson wrote out to James Fallows in an email published on our site, one would expect U.S. manufacturing to grow faster than a sluggish U.S. economy if it's truly in a renaissance (as it did in 2010 and 2011). Instead, GDP has grown by about 2% percent in 2012, while manufacturing output "has actually fallen - by 0.54 percent."
He's got a point. Long story short about U.S. manufacturing: It's had an awful half-century, an awful, awful last decade, a pretty good last two years, and a rough 2012 (much of it thanks to trouble with overseas markets as opposed to production problems inside our own borders.) But our cover stories don't guarantee that manufacturing will lead the next phase of the recovery, starting in January, but rather that there are unmissable trends that portend a shift of factory activity back to the U.S. in the next few years. I think that's right, too.

And here is one truly unmissable trend: U.S. manufacturing workers haven't been this good a bargain in decades.

>